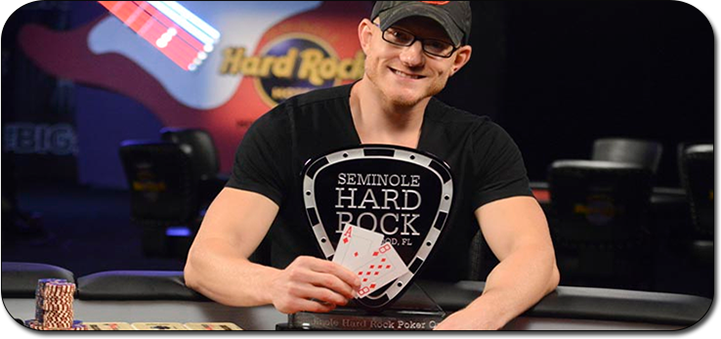 Jason Koon, a professional player from Las Vegas, won the iconic 2016 Seminole Hard Rock Poker Open $5 Million Guaranteed Championship Event, walking away with the coveted trophy and $1 million in cash. Koon was able to make it to the final table, as well as his good friend Seth Davies, where these two ultimately become foes in the final decision on which would take home first place. They even joked about going heads-up during the final table,
"[Seth] and I were laughing about the opportunity, and the next thing you know, we're sitting across the table from each other with the trophy sitting in between us, so it's a really surreal moment."
That actually became reality, making it an even bigger event for Koon and Davies.
$5,250 SHRPO No-Limit Hold'em Final Table Showdown
The final table had a few names some would recognize, but in the end, we will only remember one name, the winner's name. It was an intense final table, but Koon showed his strength from the start. Coming in 3rd chip position, he quickly took the lead by taking out Zo Karim, then moved on to beat Paul Balzano with pocket Kings over pocket Queens. He overtook the lead even further by eliminating Joe Serock, and Tim Burt later on in the match. It was finally the time when Koon would face Davies, so they went back and forth.
Koon held an


 against Davies'


 when they both went all-in. The dealer showed the cards,




, giving Koon a pair of Aces and Eights that gave him the victory. It was a close match between these two friends, but they both walked away happy they got the chance to go heads-up against each other.
The final table results:
| | | |
| --- | --- | --- |
| PLACE | PLAYER | PRIZE |
| 1 | Jason Koon | $1,000,000 |
| 2 | Seth Davies | $575,000 |
| 3 | Tim Burt | $310,000 |
| 4 | Roman Valerstein | $220,000 |
| 5 | Tom Midena | $180,000 |
| 6 | Joe Serock | $150,000 |
| 7 | Paul Balzano | $125,000 |
| 8 | Ryan Fair | $100,000 |
| 9 | Zo Karim | $75,000 |
No Hard Feelings
Koon was overjoyed by the outcome, expressing his happiness for a well deserved victory.
 "I feel fantastic. I mean, it's a great result, it's a lot of money, and I got to play heads-up with my buddy … It's a special moment."
However, even if Davies lost against Koon, they still remain very much good friends, and may use this next time they face each other as a re-match. Davies took the opportunity to say a few words about Koon,
"Jason is very much a mentor to me in poker, and in life. […] I've learned so much from him, just about how to grow as a person and as a poker player."
He also did exceedingly well, walking away with $575,000 in cash and even more chances to get his revenge. This was yet another great poker event that let fans and players see what a live tournament is all about, even more so with such a big payout on the line.