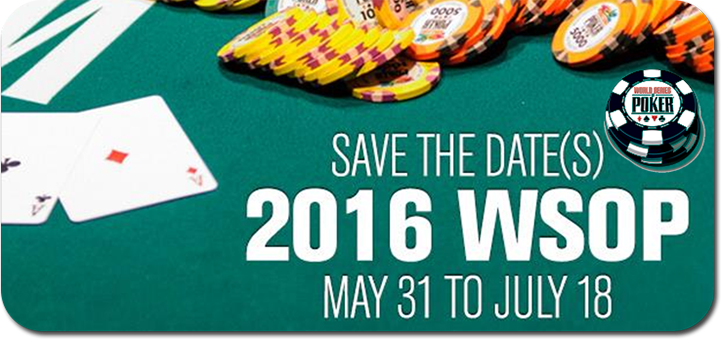 The 2016 World Series of Poker has just begun, and during this 47th annual event, you can come to expect big winners, lots of professionals, and plenty of heads-up action. The WSOP will be taking place at the Rio All-Suite Hotel and Casino in Las Vegas, and will be going from May 31 until the Main Event final table players have been chosen on July 18. As usual, there will be plenty of big and small events going on throughout the tournament, but there are a few that stand out, as this is where you will find the pro's battling each other for the big prize and bracelet.
Poker Events to Watch For
With 68 total events scheduled to take place during this year's tournament, there will be plenty to watch, but there are a few events that will have the high-stakes action that all poker player wants to enjoy.
The Colossus II (June 2 – June 7)
This is the second edition of the $565 buy-in, where the winner walks away with a gold bracelet and a $1,000,000 prize, is set to be even better than last year's event. The total prize pool is guaranteed to be at $7,000,000, leaving plenty of cash to get spread around to the top players. They have made improvements, as it is expected to bring in a lot of participants, and to avoid the hassles of last year, giving players better ways of signing up and getting paid.
Top Up Turbo (June 5 – June 6)
This new event will have a $1,000 buy-in and players will be able to double their starting chip stack by cashing in at sit-n-go tournaments offered at WSOP.com.
Tag Team (July 6 – July 8)
Another brand new event that takes a twist on poker and wrestling, with a $1,000 buy-in. Players will be able to sign up in teams of two up to four. Participants will be able to tag each other out and take turns playing, but players must stay in for at least one round of the blinds.
High Roller for One Drop (July 8 – July 10)
This is one of the most prestigious events of the tournament, with the high buy-in of $111,111. Last year it had 135 players and a prize pool of $14.2 million, with the first place player getting $3,989,985. It may attract a lot more players this year, and we may see an even bigger prize.
The Main Event (July 9 – July 18)
The $10,000 buy-in for the biggest event of the year brings in thousands of players, and among them are always the pro's looking to get their name back into fame. It will last for 9 days, during which the first few days players will be able to re-buy into the tournament. As usual, the final 9 players will wait until October 30 to resume the final table match, and will go until November 1.
There are plenty of other events to watch and even play in, with lower buy-ins, but still give you the chance to win a gold bracelet and take some cash home as well.