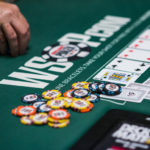 The 50th Annual World Series of Poker is crowned by the Main Event which is considered the most important part of the tournament. With thousands of players taking part in it, the Main Event is probably one of the most respected poker competitions in the world. Let's take a look at some of the facts and figures about the players & more.
The Second Largest Field Ever
This year, the $10,000 Main Event attracted a total of 8,569 entries which place it in the second place when it comes to the number of entries. The first place is still occupied by the Main Event from 2006 when a total of 8,773 players applied to take part in it, with Jamie Gold winning for $12 million.
Furthermore, the prize pool that was generated in 2019 WSOP Main Event is $80,548,600 which is also the second largest ever in the history of this event. The first-place prize in this event is set to $10,000,000 which is also the second largest ever. The largest prize in WSOP history was in 2014 and it was won by Martin Jacobson, a poker professional from Sweden.
A Huge Growth in the Past Two Decades
Chris Moneymaker made poker popular back in 2003 when the Main Event was televised for the first time, and he won a total of $2.5 million in the field of 839 players. At that point, the field was considered biggest ever, and WSOP officials couldn't have dreamed about the tournament becoming so big. In fact, in the following year, the Main Event hosted a total of 2,576 players, and that number more than doubled in 2005 when a total of 5,619 people applied. Needless to say, all records were broken back in 2006.
There was a year-over-year growth in the last four years, and many things pointed out that 2019 is going to be big, especially because it was the 50th WSOP. One of the things that made people interested in WSOP once again was Joe McKeehen's big one victory in 2015.
The Payouts
One of the reasons why people love playing WSOP Main Event is the lucrative prizes that they would receive. At the moment, the prize for the first-placed player is set to $10 million. The second-placed one would get $6 million, and the third-placed player will get $4 million.
However, it seems that seven-figures scores will be awarded to all players of the final table. The player who ends up in fourth place will get $3 million, and the fifth-played player will get $2.2 million. The player in sixth place will receive $1.85 million, and the seven-placed one is up for $1.525 million. Finally, the last two in the final table will receive $1.25 million and $1 million respectively.