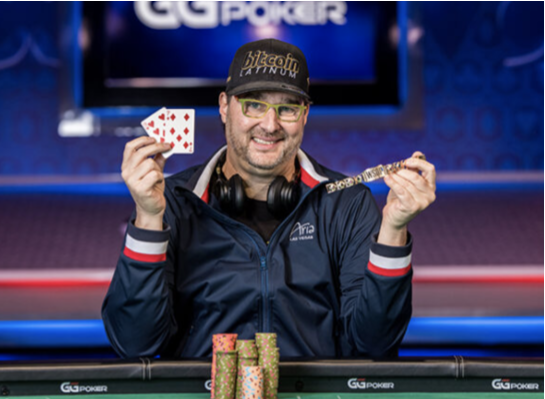 Now that the 2021 World Series of Poker is over, we decided to make a short overview of a couple of moments that will be remembered for years to come. If you're a real money poker fan, you're going to love some of these moments, as they show us how exciting and beautiful the game of poker is. Read on.
Phil Hellmuth Lands his 16th Bracelet
Phil Hellmuth is the ultimate master of WSOP. Until 2021, he had 15 gold bracelets — more than anyone has ever collected, but he managed to push the boundary and won his 16th bracelet. He did that in Event #31: $1,500 No-Limit 2-7 Lowball Draw. At the moment, Hellmuth is 57 years old, and he doesn't plan on stopping, meaning we could see him win even more bracelets in the future.
The Main Event Final Hand
There's no better feeling than having an epic final hand in the most popular poker tournament in the world — the WSOP Main Event. The hand involved George Holmes and Kory Aldemir.
Aldemir had 10-7 suited, with the board reading 10-7-2-K-9. Holmes, on the other hand, had a K-Q and decided to shove on the river. This made Aldemir think and tank his decision for a couple of minutes. He would have lost almost half of his chips if he hadn't called, and Holmes would have assumed a 2:1 chip lead. Luckily for Aldemir, he decided to call and won $8 million. More importantly, he became the champion of the 2021 World Series of Poker.
The Godfather of Poker Is Back for One More Ride
Doyle Brunson is arguably the most popular poker player globally, with dozens of years of poker behind him. At 88, he decided to travel to Rio Las Vegas and show his poker skills once again. He surprised the Rio crowd, which was thrilled to see a man who is an idol to many new and experienced poker players.
He took part in Event #58: $1,000 Super Seniors No-Limit Hold 'em but soon hit the rail. After that, the 10-time bracelet winner reappeared in Main Event and reached Day 2.
Josh Arieh Proclaimed PoY
When the WSOP festival started, poker players had their usual suspects for winning the PoY race, such as Shaun Deeb, Daniel Negreanu, and a couple of other players. However, the two most likely candidates were Phil Hellmuth and Josh Arieh, with Arieh being the one to win this race.
He managed to win two gold bracelets and record several deep runs, becoming the top performer in the 2021 WSOP.
Poker Community Shows Its Generosity
Michael Graydon, a poker player, hailing from Alabama, announced on Twitter that he was terminally ill of brain cancer. Many players turned up to help him, and Graydon ended up traveling to the WSOP and taking part in the Main Event, thanks to the help from the poker community. Some of the players that provided huge help were Jonathan Depa, MJ Gonzales, and Maria Ho.