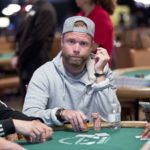 One of the best online poker players from Sweden at the moment, Robin Ylitalo, who goes by the name of "Inho" on the web, managed to win the XL Eclipse $100,000 Tune-Up event, which took place at 888poker.
Ylitalo won a total of $21,709, and his final prize was actually a result of making a deal with his heads-up opponent, SiladuS92, who comes from Russia. Ylitalo once again managed to display how professional of a player he is. He was once second in the world when it comes to online poker earnings, having earned more than $12 million by playing this game on the web.
XL Eclipse series that are brought by 888poker gave us yet another poker story to remember via the Tune-Up Event. The $100,000 was a guaranteed prize, but since there were 587 entries and 247 reentries, the prize pool rose to $125,1000.
The total number of players that received a share of the prize was 81, and the lowest possible cash was $375, which is more than a double of the amount required to buy yourself a place in this tournament — $160.
Some of the popular players that took place in this event include 888poker ambassadors such as Sofia Lovgren (aka sofialovgren), Ana Marquez (aka AnaMarquez), and Chris Moorman (aka 888Moorman).
Moorman and Marquez did not manage to make some cash in this tournament. On the other hand, Lovgren did a better job and ended up in 69th place, earning a total of $400. She lost to SiladuS92, who eventually became the runner-up of this tournament.
The Final Table Results
Players were actively playing poker for more than 10 hours when the final table was formed. The last player to hit the rail in 10th place before the final table was DeuceofDuc0, who managed to earn a total of $1,439.
The nine players formed the final table, and the first one to hit the rail was Virgul94, who is a player stationed in Malta, winning $1,877. The next one to go out, in the eighth position, was IceStream, whose country remained anonymous. They won $2,815 for being eighth.
Seventh place was reserved for a player who uses the nickname M1k3n70a7 and comes from Lithuania, winning a total of $4,066. Sixth place was occupied by a player from the UK nicknamed easy_russ for a total of $5,317.
4timesBet is a player from Greece who won $6,680 and ended up in fifth place. They were followed by MojackoKing from Sweden in fourth place for $9,508. The three-handed play ended with "advancement," a player from Russia, hitting the rail and winning a total of $12,635.
Finally, SIladuS92 and Inho returned to heads-up play but decided that they wanted to make a deal. In the end, Inho won a total of $21,709, whereas SiladuS took home $19,061.
This wrapped up yet another successful online poker tournament by 888poker, which works hard on further upgrading their poker offer and providing a lot of great online tournaments.