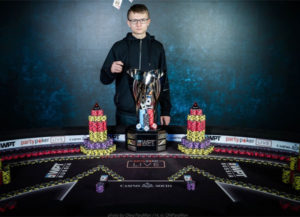 The city of Sochi in Russia is still one of the places where you can find large-scale live poker tournaments. Big poker games continued this weekend, as Sochi was home to World Poker Tour Russia, which took place at Casino Sochi.
The WPT main event, which required the buy-in of 245,000 RUB (approximately $3,300), was topped by a player called Maksim Sekretarev. His name may not ring a bell to you, and that's mainly because Sekretarev is just 19 years old. Even though he was legally playing poker for just over a year, he managed to gain enough experience to take part in a live event and win a lucrative prize for his effort. Before winning this event, Sekretarev had approximately $20K in cash at Sochi.
This time, however, he received the prize of approximately $160,000, which is his biggest reward so far. Most importantly, he received a World Poker Tour title, which is a huge achievement for someone who still hasn't reached their twenties.
Due to Covid-19 restrictions, the field was mainly comprised of Russian players. A total of 251 entries were recorded, with the top 32 being paid. Some of the popular Russian players who took part in the event were Andrey Kotelnikov and Aleksandr Merzhvinskiy.
Maskim Pisarenko was another popular player who almost managed to reach the final table. However, he stumbled upon Sekretarev, and his king-jack lost to Sekretarev's ace-jack, meaning Pisarenko fell short of the final table.
The Final Table Overview
The final table consisted of the top six players and Sekretarev started showing his poker prowess right away. He entered the final table as the chip leader and remained on top throughout the event.
His first victim in the heads-up play was a player named Sergey Bobrik, who ended up in sixth place and won $33,000. Bobrik had pocket nines against K-6, but another King appeared on the flop, sending Bobrik to the rail.
After that, Sekretarev busted Vanush Mnatsakanyan with A-Q suited against K-J suited. At that point, he had amassed more than half of the chips that were in play at that moment.
The next player to hit the rail was Vladimir Bozinovic. He was the only non-Russian player in the final table, coming from Serbia. Bozinovic's prize was $57,000 as he ended up in fourth place. He was also sent to the rails by Sekretarev.
At the start of the three-handed play, Andrey Volkov was short on chips, but he managed to get back to the game and make things more interesting. He doubled a couple of times and managed to become Sekretarev's final opponent, as opposed to Ravil Khamatgareev, who ended up in third place, earning a total of $78,000.
The heads-up started with Sekretarev having a big lead in chips, and he didn't need much time to finish what he started. His final hand consisted of a king of hearts and queen of clubs, against 10-8 of diamonds suited. Andrey Volkov, therefore, had to settle for second place and the consolation prize of $107,000.