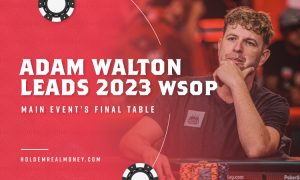 The biggest World Series of Poker (WSOP) Main Event is almost coming to an end. The $10,000 Buy-In No-Limit Hold'em Championship had 10,043 entrants and a $93,399,900 prize pool. But only nine players are competing for the $12,100,000 first-place prize and bracelet.
Each of them will take home at least $900,000. The field drastically reduced from 15 to nine before they set the official final table at Horseshoe Las Vegas.
Adam Walton became the stack leader with 143,800,000 chips which were almost 24 percent of the chips at the table. He admitted that he was glad to get the lead, and that felt surreal. The 40-year-old Seattle poker player concentrates a lot on cash games.
Even so, he has competed in several tournaments since the Coronavirus pandemic. Reports show that he has won over $951,000 in poker tournaments earnings now. He finished in the 42nd position in the 2021 WSOP Main Event.
The Current Leaderboard
Adam Walton-143,800,000 chips

Steven Jones-90,300,000 chips

Daniel Weinman-81,700,000 chips

Jan-Peter Jachtmann-74,600,000 chips

Juan Maceiras-68,000,000 chips

Ruslan Prydryk-50,700,000 chips

Dean Hutchison-41,700,000 chips

Daniel Holzner-31,900,000 chips

Toby Lewis-19,800,000 chips
How Things Unfolded on Day 8
Joshua Payne used KSpade SuitKDiamond Suit to raise an early position, and Jose Aguilera used QSpade SuitQClub Suit to place a three-bet from the button. Still, Weinman used JSpade SuitJClub Suit to look down and make more than 36 big blinds four-bet shove.
The two players called before the flop turned AHeart Suit7Heart Suit4Spade Suit. It gave Payne 83 percent equity before JHeart Suit on turn gave Weinman the stack lead. 3Spade Suit landed on the river as Weinman eliminated Payne in the 14th position.
Weinman had over $3,700,000 in poker event earnings while advancing to the WSOP Main Event's final table. Reports show that he can double his earnings if he finishes among the leading three players.
Jan-Peter Jachtmann is fourth with 74,600,000 chips and over $1,200,000 cashes. He won $661,000 after leading in the 2012 WSOP $10,000 Pot-Limit Omaha Championship. Juan Maceiras was the chip leader early in the day but lost the lead when he missed a medium-sized pot to Walton.
Maceiras dropped to the fifth position on the leaderboard. Ruslan Prydry is the sixth final table player with 50,700,000 chips, and Dean Hutchison is seventh with 41,700,000 chips. The latter won $154,935 in a UKIPT Edinburgh £1,100 tournament and has almost $687,000 in live poker event earnings.
Daniel Holzner reached the final table despite being 30 years old and the youngest player among the remaining finalists. He ended the day in eighth place with 31,900,000 chips.
Toby Lewis is the ninth finalist with 19,800,000 chips. Jachtmann sent Jose Aguilera home in the 10th position.
Ready To Play Poker Online For Money?
Sign up at our recommended online poker sites and play for a chance to win cash.