Just days after winning re-election to the U.S. Senate for the state of New York, Joseph Addabbo Jr. will continue with his plans to push for the legalization of online casinos and poker in 2023.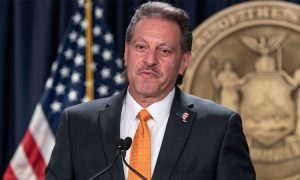 The Democratic senator has said he will lead the effort to have bills legalizing the activities included in the upcoming Fiscal Year 2024 New York State Executive Budget. If not, he'll try to have legislation included in the state budget to be passed in April 2023.
Senator Addabbo has long been a steadfast supporter of legalized gambling in New York for many years. He has been an advocate for online poker recently by getting behind a recent bill that describes poker as a game of skill, not luck.
This would categorize the game as an activity that should be regulated by state gambling laws. By attempting to have the proposed legislation included in the executive budget, the senator can also discuss the proposal with Governor Kathy Hochul about her concerns and make any amendments that may be needed.
Focus Will Be On Current Gaming Concerns
Addobbo will have many of the same colleagues surrounding him that helped to get online sports betting legalized in New York. This includes many groups and individuals who helped in approving three land-based casino licenses.
Although his priority is to get US online poker and casinos legalized, future discussions will mean lawmakers will likely revisit online sports betting.
Since online sports betting was launched in January 2022, the state has collected more than $1 billion in taxes from gross gaming revenue. However, Addobbo feels that legislators should reconsider the 51% tax on sportsbook providers.
This would help in expanding the number of legal sportsbooks by attracting more bookmakers to do business in the state. The tax rate enforced by the New York Gaming Commission is currently the highest in the country.
Gambling Addiction Is A Big Challenge
The last time Senator Addobbo lobbied to pass online casino legislation, he acknowledged that the biggest challenge with legal online gaming is dealing with the issue of gambling addiction.
He believes that legalizing online casinos and poker sites should help identify problem gamblers and offer help to anyone at risk or already addicted. The state legislature recently passed two bills to create the Problem Gambling Advisory Council, which are currently on Governor Hochul's desk awaiting her signature.
To legalize online casinos in New York, the same process that helped launch online sports betting will have to be followed. This includes consulting industry stakeholders as well as opponents of the activity to work out safety protocols and measures to address safety concerns.
Addobbo will immediately start working with colleagues to potentially have a proposal to include in the January Executive Budget. If that doesn't happen, there would be another opportunity to prepare a final draft that could be ready for the final budget in April.
In all his efforts to legalize gambling in New York, he has always stressed that legalization is the only way New Yorkers can benefit from the iGaming industry.