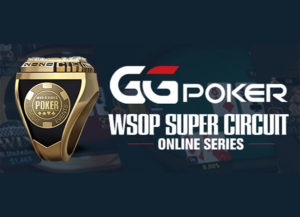 Online World Series of Poker Circuit is already underway, and two more champions were crowned on January 9, both receiving gold rings as a trophy. It was a great online poker tournament, here is the recap.
One of them was Nicklas Astedt, who managed to top WSOPC #13: $10,000 Heads-Up No-Limit Hold'em, winning a total of $348,250. The other player was David "MyLastHand!" Cameron, who topped WSOPC #17: $252 Deepstactk Bounty Hunters No Limit for a total of $64,390.
Both players received one such award for the first time in their lives.
WSOPC #13: $10,000 Heads-up No-Limit Hold'em
Nicklas Astedt took less than three hours to complete the 2020 GGPoker WSOPC Event #13 and win the main prize, as well as his first Circuit gold ring. His final opponent was Mirza Muhovic who had to settle for the consolation prize of $199,000.
The event had a total of $1 million in guaranteed prizes and attracted 94 entrants. Only the top eight players had an opportunity to cash-out the prizes. Apart from Astedt and Muhovic, other players to receive prizes were Cooper Li and Ian Modder who met in the semi-finals with the two finalists. Li and Modder received $99,500 each. Quarter-finalists also got paid for their effort, as each received a total of $62,188. They were Juan Pardo, George Wolff, Oliver Weiss, and Wiktor Malinowski.
WSOPC #17: $252 Deepstack Bounty Hunters No-Limit Hold'em
David "MyLastHand!" Comeron is a poker player from Spain who moved to Estonia almost one year ago and is now active on GGPoker. He managed to top the 17th event of the first WSOPC stop this year, where he won a total of $64,390. Since this was a bounty type of tournament, his actual prize was $28,776, and he managed to collect $35,614 more in bounties.
The final table was an excellent one that consisted of many seasoned players.
The first one to hit the rail was Song Xue, who managed to win a total of $7,815. Song was soon followed by Cyprus' "Grave Digg3r," who ended up with a great tournament, winning $8,257.
The seventh-placed player, nicknamed "ThewSenior" from Canada, actually won less than the player from Cyprus. Even though his basic prize was bigger, the Canadian only won $926 on bounties, and his final prize was $6,808.
Finishing up in sixth place was reserved for Russia's "v_NIstelrooy," who won $10,660, and they were followed by Rafel "R Reis" Reis from Brazil, who ended up with a $12,954 paycheck.
Singapore's Bao Qiang Ho hit the rail as the fourth-placed player and won a total of $25,977. The last player to leave the game before the heads-up was Mikhael "zyxel777" Aleksandrow from Russia, who won a total of $25,346. Comeron meth with New Zealand's Tam Le, but the Kiwi had to settle for the consolation prize of $32,287.