The winner of Aussie Millions Main Event, Toby Lewis, has managed to win another huge event and is now the champion of 2019 Aussie Millions AU$50,000 Challenge. He won a total of AU$818,054 after managing to beat Manig Loeser in the heads-up battle. It wasn't an easy event for Toby Lewis, who had a very long Day 2, playing almost the whole night. However, it was all worth it in the end as he started Day 3 as the chip leader and had a great advantage which proved crucial for winning this important title that will enrich his already-amazing poker portfolio.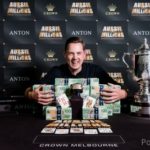 It also seems that he deserved this victory more than ever as he also played AU$25,000 Challenge a couple of days before this tournament and was very close to winning it as well. However, he did not manage to beat the opponent in the heads up play and ended up second. In the end, Toby Lewis can be considered a true Aussie Millions champion. We already mentioned that he won the Main Event of this tournament a year ago when he landed a total of AU$1,458,198 on January 29, 2018. In other words, he landed another Aussie Millions at almost the same time when he won the Main Event.
What does Toby have to say about the victory?
The latest prize added to his lifetime poker earnings and is now sitting at the figure of $6.3 million. He officially took over Dave Ulliott and is the sixth player on the All-Time Money List of England. It is safe to assume that Toby is on his way to achieve even better results, and he is very positive about his success. Lewis stated that he was very fortunate to have won the event. He added that he had played well and had a great run even though he hadn't actually planned to play in the first place. He stated that he had been tired after playing the AU$25,000 Challenge, but that the AU$50,000 Challenge looked very inviting due to the fact that there were more players compared to the previous year.
Lewis also stated that he had been having second thoughts, but that he had decided to catch the last train and join the event nevertheless. His colleagues and friends also encouraged him to apply, and that turned out to be crucial as it was great motivation for him to play well and win. Apart from Toby Lewis and Manig Loeser, other players who made it to the final table are Thomas Muehloecker, Dominik Nitsche, Bjorn Li, Tobias Ziegler, and Michale Zhang. It is interesting that there were no Australian players in the final table, and there were three German ones. However, it was the guy from the UK that took the title in the end.