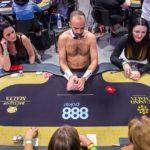 Innovation is always welcome in poker, and the team behind the Battle of Malta poker tournament certainly did not lack some. Yet, if it's too much, it could become an issue, and one such thing happened in Malta.
As the €550 Battle of Malta Main Event is currently underway and everyone expects to see the final outcome soon, there was also another event that sparked a lot of interest, but also a lot of controversy.
Namely, an event called €110 Ladies Event was something that most of the participants were either curious or mad about because of the topless male dealers.
Simply put, the male dealers spiced things up by showing up with no shirt. The only thing that remained was a collar and bracers. Naturally, many people were simply mad about this attempt at making things more "sexual," and some of them even decided to state their opinion on Twitter.
One of them was Daiva Byrne, who is an active poker player and advocate for women who play poker. Moreover, Byrne is a representative of Betsson poker.
I'm not really sure how @CM_Poker @BattleOfMalta think this is an acceptable gimmick for a ladies event. I, like most of the ladies here find this demeaning for both the players and the dealers! 🤦‍♀️ pic.twitter.com/1evp783HIh

— Daiva Byrne (@baltic_blonde) October 20, 2019
She was present during this event and stated that she was not really sure whether topless dealers were "an acceptable gimmick for a ladies event." She stated that most of the women who took part in the event hadn't been exactly thrilled about the idea that there is a topless person dealing cards on their table.
The Twitter post was also commented on by Dara O'Kearney, a professional poker player from Ireland, who added that one of the dealers who refused to take their top off had been taken off of working in the Ladies Event.
However, the entire situation was resolved after the ladies returned from the first break. All dealers were appropriately dressed after that, and the event continued to unfold as it should have from the beginning.
However, many participants stated that the damage had already been done and that the entire idea was wrong from the start.
An Incentive for Topless Dealers
Dealers who took part in the Ladies Event stated that they were offered an incentive of €50 if they go topless, so some of them were obviously ready to earn a small bonus just by taking their shirt off.
However, many dealers did not like the idea as well. One of them, who wanted to remain anonymous, stated that the suggestion was simply wrong and degrading for men. Moreover, he added that it was "borderline prostitution" as dealers had been offered money to take their shirts off.
Tournament officials probably wanted to make things different and more attractive. However, their idea wasn't really appropriate. Instead of being accepted as entertaining and attract more ladies, it actually created the negative sentiment, meaning that the step they took was not really the right one.
Hopefully, other tournament organizers learned from this unfortunate event that some things need to stay the same in poker and that not ALL is susceptible to innovation.