The first high roller event in the 50th Annual World Series of Poker came to an end. It required buy-in of $50,000, and a player named Ben Heath managed to win, taking home the hefty prize of $1.48 million. This is officially the first WSOP win and gold bracelet for Heath. Since the buy-in was so high, it was only natural to see some of the poker professionals and recognizable faces reach the final table. The entire tournament attracted 110 entries and only six of them returned on the last day to take their shot at the final prize. The six players that remained in the game were all WSOP bracelet winners except for Ben Heath. However, Heath had a chip lead upon entering the last day and he completely managed to keep things under control, playing it cool every time there was pressure.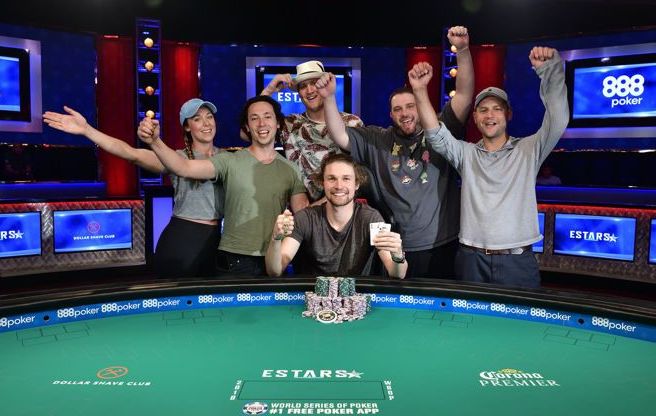 It took him less than five hours of play to win the final hand and be rewarded with a bracelet along with a hefty cash prize. Although he made it look like it was a piece of cake for him on the exterior by playing it cool, the truth is that he wasn't really cool on the inside — after all, he was facing some of the best players in the industry, all of whom already had a lot of experience in WSOP final tables. Heath was asked after his victory how he felt, and he responded that the whole thing felt a lot better than he had thought it would have. He added that when he had been younger he had never aimed for the bracelet and that it had never been his true goal, but that it felt great to win such an honor anyway.
The Final Table
The last table consisted of nine players, but only six of them returned on the final day. The first player to hit the rail in ninth place was David Einhorn, who won a total of $122,551. He was followed by Cary Katz in eighth place for $151,755, and Elio Fox in seventh place for $192,794. The next day, the first player to hit the rail was Chance Kornuth, who managed to win $251,128. Soon after him, Nick Petrangelo followed, winning a total of $335,181. Dmitry Yurasov from Russia ended up in fourth place with a prize of $458,138, and he was soon followed by Sam Soverel, who ended up being third with a total of $640,924.
In the final hand, Lichtenberger raised on the button and Heath three-bet with ace-jack. Lichtenberger decided to four-bet and even shoved for a total of 56 big blinds. He had an ace-king in his hand. Ben Heath managed to flop a jack and made a lead. The turn made him feel a bit nervous, but it was a blank for both players on the river, so Heath was able to celebrate with his friends who have been rooting for him all the way.