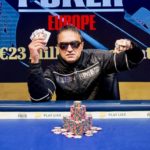 The World Series of Poker Europe is currently underway, and it is one of the most important tournaments at the moment, awarding a total of 15 bracelets to event winners. The 10th event in the tournament wrapped up recently, with Besim Hot, a player from Switzerland, managing to win a gold bracelet, the second ever for the European country.
The name of the event was Event No. 10: €25,500 Mixed Games Championship, and it featured some really popular players, including Phil Hellmuth, who made it to the heads-up but did not manage to win another bracelet. If he had, that would have been his 16th one, and he would just confirm his No. 1 spot in the number of bracelets won.
A total of 45 entries were in the event, creating a total prize pool of €1,068,750, with Hot winning the lion's share of the prize — a total of €385,911. On the other hand, Hellmuth had to be satisfied with a consolation prize of €238,509.
The Final Table Results
Besim Hot played pretty well during the entire tournament. In fact, at the time the final table was formed, he already had a third of all the chips on the table, meaning that he had an enormous advantage over others who also made it to the final part of the event.
Being in that position at that moment was already a great thing, as basically, all the other players in the final table were popular poker professionals who all had but one thing in their heads — grab another WSOP title!
The first player to hit the rail at the final table was Alex Livingston, who managed to win €38,389. He was followed by a living poker legend, Daniel Negreanu, who also happens to be Livingston's fellow countryman, as both players are Canadians. Negreanu won €54,287.
The fifth position belonged to a French poker pro named Julien Martini, who successfully earned €77,502. Benny Glaser, a poker pro from the UK, ended up fourth, earning €111,689 along the way.
The last player to hit the rail before the official heads-up play commenced was Dzmitry Urbanovich, a Polish poker player who managed to win a total of $162,463.
Hot Established A Lead Quickly
Hellmuth and Hot had a similar number of chips when heads-up play began, but Hot was quick to establish a lead and gain control over play. Hellmuth ended up third once during this year's WSOPE and improved his overall position by being a runner-up. Will he continue his climb to snatch another bracelet before the tournament ends?
Hot is a Macedonian-born player who has been living in Switzerland for a long time. He has managed to become the No. 1 Swiss player when it comes to the amount of money earned from playing poker by winning this tournament.
Right now, he has managed to accumulate approximately $2.1 million from poker earnings, overtaking Linus "LLinusLLove" Loeliger on the Swiss all-time money list.