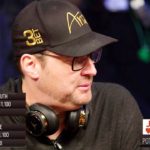 Angle shots are something that players either love or hate. It's a bit unethical and a deceptive tactic that some players use to gain an advantage over other poker players sitting at the same table.
There are various angle shoots that people can utilize, and some of them have been recorded on TV. Let's take a look at some of the best and most controversial angle shooting moments on TV.
Phil Hellmuth and Tony G
The two players played pot-limit hold 'em, and Tony G stated that he re-potted pot-sized open by Hellmuth without actually seeing his cards. Hellmuth had an ace of spades and a jack of diamonds and decided that his cards were good enough to move in. The problem is that Tony G looked and he knew full well what cards he had, despite the fact that he convinced anyone at the table that he hadn't.
In the end, he won the hand immediately, and Hellmuth got angry — "Oh, you lied!" Tony G admitted to having lied — after all, it's a game of poker! However, this was not really an ethical move coming from Tony G, although he hadn't done anything wrong except lie about his cards.
Freitez "Mistake" Raise
Ivan Freitez is one of the best tournament players from Venezuela, and he definitely has a couple of tricks up his sleeve. One of those tricks was actually recorded on TV and is now available on the web.
Freitez took part in EPT Grand Final, and he did it a couple of times. The one that was recorded was against an American player, Eugene Yanayt, who fell for the trick and went for a raise.
He had a full house, and Yanayt had a 0 percent chance to win the hand after the flop, turn and river were face-up. Nevertheless, Freitez made him think that he had nothing, and that, perhaps Yanayt had some opportunity to win a hand. But it was all in vain!
Freitez said, "I raise!" and threw a lot of chips, but then he said, "Sorry — I call!" One cannot deny the fact that he is not that good with English, but he is good enough to know that he cannot revert his decision.
Armenian Mike Takes His All-In Back
Armenian Mike simply wanted to go all in — or he joked? Nobody knows that even today. He grabbed his rack and started pushing them towards the middle of the table.
As soon as he started moving it forward, one of the players snap-called it. The problem is that Mike then pulled his rack back, saying that he was only joking about his bet. It's controversial, and it's a bit funny. But other players sitting at the table certainly did not like the way he did his little "move."
Was this an actual attempt of angle shooting, or did Mike just want to make a joke? The poker world is still divided on this issue. Mike was suspended from LATB after trying to pull off that "joke."