Justin Macella, a McRae, Georgia resident, is a professional baseball and football coach who occasionally plays poker.
He recently beat 326 entrants in the $2,000 Bestbet Winter Open Main Event and won $122,017.
It was the largest win in his poker career.
What Did the Final Table Qualifiers Win?
Justin Macella from McRae, Georgia – $122,017
Russell Quick from Jacksonville, Florida – $81,343
Thomas Carroll from N. Augusta, South Carolina – $59,679
Aftab Patni from Orlando, Florida – $44,339
Michael Frierson from Jacksonville, Florida – $33,366
Toby Boas from Sylva, North Carolina – $25,437
David Tuthill from St. Petersburg, Florida – $19,648
Maxwell Young from Portland, Oregon – $15,379
Bryce McVay from Tampa, Florida – $12,201
What Happened at the Final Table?
Nine players formed the final table and got a large portion of the tournament's $580,425 prize pool. Bryce McVay was the first finalist to get busted 15 minutes after the action at the table began.
Maxwell Young followed McVay in eighth place before the players took their first break. David Tuthill and Toby Boas exited the event in seventh and sixth place respectively, shortly after the break ended.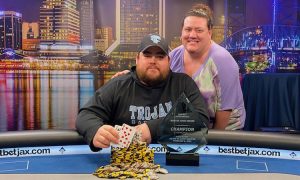 Thomas Carroll has $7 million in poker career winnings. He collected chips fast to become second in the chip standings after Justin Macella. Even so, Michael Frierson's run ended in the fifth position, and level 24 had a long stretch.
Carroll lost many chips while Macella collected others and increased his chip margin with the second player.
Aftab Patni got busted in the fourth position, Carroll followed him in third place. His exit set up heads-up action between Macella and Quick.
The latter required the former to prolong his run on Day 2 after using ace-five to jam into the latter's ace-jack. After they paired kickers on the flop, he required two fives to continue playing.
The heads-up action had many big pots, and Quick got the chip lead due to his aggressive play a few minutes after the one-hour match began. Macella put up a spirited fight as he gradually regained the stack lead after Quick's winning straight earned him a crucial call.
Macella won after several minutes after his better top pair defeated his opponent's flopped top pair. Quick went all in before Macella called him. The latter stated after the tournament that he was thrilled to face Quick in the heads-up match.
He admitted that they use the same poker styles and they are confident. Macella enjoyed being at the final table and was ready to mix his cards to get the right spots and extend his run.
After the final hand was dealt, he motivated himself, believing that Quick couldn't outperform him the whole day.
Macella made a bluff without expecting a call by ace-jack. He thought at one moment that his run had ended after he made an ace-five shove, but the turn favored him. This was his first six-figure payout since he began playing poker.
The champion stated in an interview after the event that coaching is his full-time job, and poker earns him extra income. Yet, he won't shift to be a professional player soon, since he likes nurturing teenagers' talents.
Put Your Skills To The Test Online!