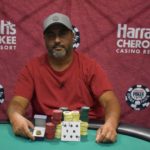 The World Series of Poker Circuit began recently, and we are already at the end of the second stop for the 2019-20 season. It took place at Harrah's Cherokee Casino Resort and ended with the conclusion of the $1,700 Main Event.
The event gathered a total of 1,057 entries, and Billy Cashwell eventually emerged a winner, winning his first gold WSOP Circuit ring and a cash prize of $271,234.
Poker journalists immediately interviewed Cashwell about his feelings, and he stated that he had been out for a while and that he felt great about winning the event. Cashwell, who is from North Carolina, had been actively playing poker for over a decade, and his first recorded cash dates back to 2006.
Cashwell has been doing pretty well in the last couple of years and even managed to come close to winning the same tournament back in 2017. He was seventh back then and won the most substantial cash of his career, which was a bit over $50,000. However, that has changed in 2019, as Cashwell has a lot to tell to his friends and family.
Heads-Up
He played the heads-up part of the tournament against a player from Lawrenceville, Ga., Forrest Raleigh. During the last hand, Raleigh went all-in on the button. He met with the pocket fives that Cashwell had but managed to make a pair himself on the turn.
However, Cashwell was lucky enough to find a straight and win the tournament. After that, the river was just a formality as Cashwell was sure he was the winner of the event.
Now that he has managed to land his first six-figure score, Cashwell has big plans for the future, planning to play poker outside of Cherokee. He stated that he would like to add a couple of additional circuit stops.
Furthermore, he will take part in Harrah's Cherokee in 2020 to participate in the Global Casino Championship. This is an invite-only tournament that Cashwell has been invited to after winning this tournament. There are a lot more WSOP Circuit stops until then.
Final Table Results
Nine players made it to the final table of this tournament. The first one to hit the rail was Robert Georato from Naples, Fla., winning a total of $27,822. The next one in line was Shawn McClanahan from Abingdon, Va., for $34,971. Seventh place went to Rodney Seymour, who comes from Atlanta and won $44,373.
Sixth place was occupied by the only non-American player, Martin Kozlov, from Lysterfield, Australia. Kozlov took home $56,832. Brad Albrinck from Cincinnati won a total of $73,467, and Dann Turner from Cleveland won $95,847 as the fourth-place player.
Third place went to Thomas Alcorn, who won $126,188, while Raleigh won $176,637 as the runner-up.