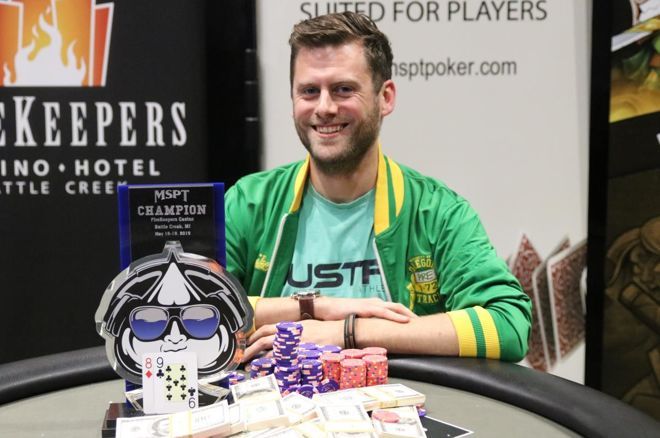 Chris Moon is definitely a star on the rise as he has been playing some extraordinary games lately, having won his first live trophy HPT Ameristar East Chicago. He stated that he had been waiting for his first live trophy for 18 years, and that was a huge moment for him. Hard work really seems to have paid off for Moon as he did not have to wait another 18 years for his second live trophy. In fact, he did not have to wait even for a fortnight, as he managed to win Mid-States Poker Tour FireKeepers $1,100 Main Event just a couple of days after his first live trophy.
Chris Moon managed to top the field, which contained a total of 1,592 players, and he earned $258,407. This has now officially become his biggest live cash ever, with the second place taken by his previous victory at HPT, where he managed to win $183,899. The tournament had $1 million guaranteed in cash prizes, but the number of interested players was so high that the final prize ended up being $1.5 million, and Moon took the biggest chunk out of the prize pool. The total of 171 players were on the cash list, some of them being Jeff Fielder, Aaron Johnson, Craig Casino, Blake Bohn, Kou Vang, and Craig Trost. Moon was a favorite when he entered the final table at HPT as he had had a monster chip lead back then. However, this time it was a much more difficult situation for him as he wasn't even one of the leaders at the the the final table started. In fact, he was down to 17 big blinds at the moment he entered the final table.
The Final Table Results
At the moment the final table action began, Jeffrey Hill was the chip leader, and he managed to score several eliminations first, thus increasing his chip count even more. There were a total of ten players who made it to the last part of the tournament. The first player to hit the rail in this event was Damon Chittenden, who won a total of $20,055. He was followed by Jason Bender and Jason Johnson, who won $26,227 and $32,398 respectively. The seventh-place belonged to Irbrahim Shoubah, who won $41,654, and Sultan Ahmed, who won $52,453. The next player to go out was Rudy Sawa in fifth place, who won $69,423. He was soon followed by Matthew Stammen for $91,022. The third place was occupied by Ryan Awwad, who managed to win $120,334.
Therefore, the final part of the tournament was between Moon and Hill. In the final hand, Moon raised to 1.2 million at 25,000/50,000/50,000. Hill placed his bet when the flop showed 7, 3, and 6, and Moon decided to call. A 5 of hearts appeared on the turn, which meant that Hill had straight since his hand was a 10 and a 4. However, Moon had a 9 and an 8 and won the hand by having a nine-high straight.