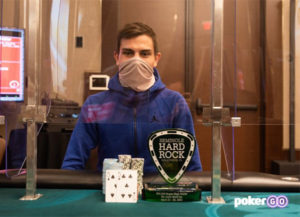 Arthur Conan managed to top the $50,000 Super High Roller, an event that was part of the Seminole Hard Rock Poker Showdown. The winner has really managed to avoid the unavoidable as he was down to just one blind during four-handed play. However, he started building his way up and eventually won the event, landing $733,320 as his final prize.
A total of 42 entries were recorded in this event, which is a new record, as the last one was in 2019 — a total of 41. Breaking records has become somewhat normal for the series, which has been quite popular after it returned to the live felt.
Conan's road to victory wasn't an easy one. He had only nine big blinds going into the final day and was the player with the shortest stack at that moment. The leaders were Chris Brewer and Seth Davies, who both had around 80 big blinds.
Final Table Overview
The final table consisted of seven players, and the first one to hit the rail was Ilyas Muradi, who managed to win a total of $81,480.
The next in line was Jeremy Ausmus, who won $112,035 for his effort. Conan managed to double up after that with a flush on the turn and all-in against the set of sixes that Sean Winter had in his hand.
This posed a heavy blow to Winter from which he failed to recover properly and hit the rail in fifth place with $142,590 in his pocket.
The most important event took place when there were only four players left. During the crucial hand, Davies made a 60,000 raise at 25,000/50,000/25,0000, and Conan decided to call to see the flop, which showed a queen of diamonds, a 10 of hearts, and a six of hearts.
Davies then decided to increase for another 90,000, and Conan called it, only to see a jack of diamonds appearing on the turn.
Davies continued with the same pace, increasing the bet for another 90,000, but Conan decided to bet 250,000 instead, and Davies called. The last community card that was placed on the table was a four of hearts.
Davies decided to check this time, but Conan increased his bet for another 265,000, and Davies called once again. It turns out that Conan was just bluffing, with a 9-7 unsuited in his hand, and Davies won the hand with queens and 10s.
After this hand, all Conan had left was just a single T25,000 chip, meaning he was down to just one big blind, but then things started turning around for him, and he made several consecutive wins, increasing his stack size to 505K at 30,000 big blind.
Davies, on the other hand, turned out to be the one to leave the game in fourth place with $204,700. Brewer exited after that for $295,365, leaving Sam Soverel and Arthur Conan in a heads-up duel.
Conan eventually won the real money poker event, and Soverel had to settle for the consolation prize of $468,510.