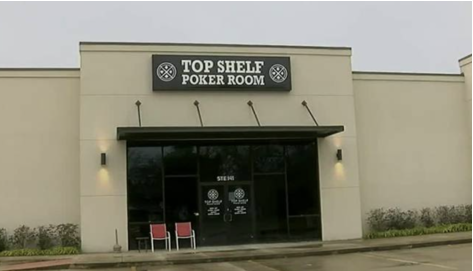 Smith County Sheriffs issued a search warrant for Top Shelf Poker Room in Flint on Friday, in which the business was shut down pending an investigation into illegal gambling. According to District Attorney Jacob Putman, the business was in violation of Chapter 47 of the Texas Penal Code.
In a statement made by Sheriff Larry Smith, the investigation was launched in March 2021 after numerous complaints about an illegal gambling operation occurring at the business. Investigators, including some undercover officers, developed probable cause to indicate unlawful gambling was taking place at the poker room.
Texas Cracking Down on Poker
The Sheriff also said the owners and operators of the establishment were in violation of the law regarding illegal gambling. He also said when the warrant was executed, the owners and operators were also found to be in violation of Chapter 7102 of the Texas Penal Code, which is engagement in organized criminal activity. This is a felony punishable by six months to two years in prison and up to a 10,000 fine.
In execution of the warrant, investigators seized gambling equipment and paraphernalia, U.S. currency, financial records, and other documents and electronics believed to be used in the promotion of gambling.
The Sheriff also addressed the questions as to why the D.A. and law enforcement takes the time to investigate "simple gambling laws" where there are supposedly no victims, saying "Smith County is a law and order county and will remain a law and order county as long as those laws are on the books."
Second Card Room Shut Down
The case is similar to another North Dallas card room, the Texas Card House, which was shut down last month. Owner Ryan Crow appeared before the city council two years ago when city attorneys approved the business as legal, and it was eventually opened six months later.
In December of last year, he received a letter from the city stating his certificate of occupancy was issued by mistake. The city classified the property as a gambling establishment and ordered the business to shut down.
Crow says what keeps his business is legal because members don't give the cardroom a cut of their winnings and that he operates a legal club in which members only pay a membership fee. The city attorneys agreed with him in their ruling two years ago.
Other Businesses May Fall
Crow mentioned that he is operating seven other similar businesses across Texas with no problems from authorities regarding their legality. He added that the city should be focused on closing illegal cardrooms and unregulated clubs where crimes are occurring instead of targeting him as he provides a safe place for patrons to play poker. He is appealing the decision by the city.
Sheriff Smith's suggestion to people who want to run this kind of business is "…to consult with their own attorney to determine what is lawful and what is not before they set off on a venture such as this." The Sheriff also confirmed that they will be charging three to four people in this case in the "very near future."