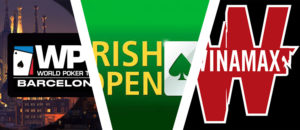 It seems that March 10, 2020, will go down in poker history as a very sad day for poker fans, as three major tournaments were postponed due to the ongoing crisis caused by the coronavirus. The unpopular COVID-19 disease already caused many poker tournament organizers to either cancel or postpone the competitions.
The latest three to be postponed were WPT Barcelona, 2020 Irish Open, and Winamax's Grand Final.
WPT Barcelona is one of the major stops of the World Poker Tour, attracting hundreds of players from all over the world. In other words, it's a tournament that would attract people from countries where coronavirus is already causing a huge problem.
That's why organizers issued an official statement on the site of Casino Barcelona. In the statement, they said that the World Poker Tour and partypoker LIVE had discussed the situation and decided that it's best to postpone WPT Barcelona that was originally to take place from March 27-April 5.
According to the statement, the coronavirus has hit Spain as well as many other countries all over the world. The priority of the organizers is to maximize the safety of both players and staff.
On the other hand, the statement doesn't specify the actual date when it could take place.
Irish Open Cancelation Rumors Turn Out to Be True
The 2020 Irish Open was originally planned on April 6-13, but its management team decided that it was high time to shut it down for the best. The second-longest running poker festival in the world has a huge and successful history, but 2020 will definitely not be the year to remember.
Right now, there are 34 people in Ireland who have contracted the virus, and no deaths were reported for now. However, the Irish Open is a very popular competition, and it also attracts players from the entire world, which poses a certain threat to the population if Ireland.
During this week-long festival, literally thousands of players from Europe travel to Ireland to test their skills and luck.
Winamax Poker Tour Grand Final Postponed
The third big poker competition that was canceled recently was the Winamax Poker Tour Grand Final, which would take place at the Casino Gran Madrid Torrelodones. It was originally set for March 19-29.
At first, the organizers thought that making the measures more serious will do the job, doing their best to frequently clean the poker tables, and more. However, soon after that, it was confirmed that the Spanish government has taken drastic measures. That resulted in the tournament to be postponed.
However, the option of it being completely canceled is still being considered. Once again, there are no dates confirmed, as the officials need to monitor the situation related to the coronavirus to see whether there will be a good time later in 2020 to hold the tournament.
All it takes now is to wait and follow the news related to these three major competitions.