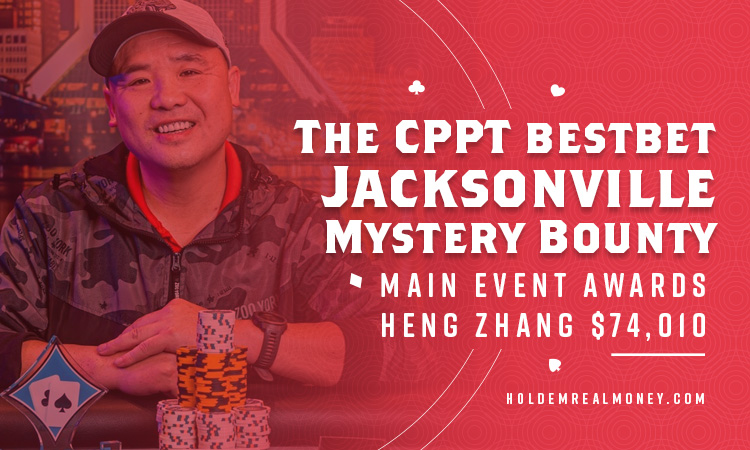 The 2023 Card Player Poker Tour (CPPT) bestbet Jacksonville series took place between August 10 and 21. It featured 1,885 players, nine tournaments and had $1,033,755 prize money.
Even so, the $1,700 Buy-In CPPT bestbet Jacksonville No-Limit Hold'em Mystery Bounty Main Event contributed most of the prize pool. It attracted 357 players who surpassed its initial $300,000 guarantee and formed a $537,285 prize pool.
The tournament had three starting flights and two extra days. Still, Heng Zhang, a St. Augustine, Florida resident, won the title and took home $74,010. Still, he won $51,000 bounties hence increasing his total prize to $125,010.
It was Zhang's second time in his professional poker career to reach a CPPT bestbet Jacksonville Main Event's final table. He won $69,252 after finishing third in the 2015 CPPT Main Event.
The poker pro stated after the recent tournament that he wasn't under pressure to win. Instead, he concentrated on hands rather than victory. It was his second-biggest payout, the $81,000 he won in the 2021 World Series of Poker (WSOP) Main Event and finishing in 75th place.
Besides winning the money and title, Zhang garnered 600 Card Player Player of the Year (POY) points and is among the leading 1,000 players in the current POY race standing. Each of the event's three starting flights played, and 47 entrants advanced to Day 2 after reaching the "money bracket."
The tournament's organizers introduced mystery bounties at that moment. They awarded players $178,500 in payouts of $500 to $50,000.
Wendy Lu won the event's largest bounty despite bagging $38,577 when they finished second in the series' kickoff tournament. Some of its talented players include Wendy Lu, Jermaine Gerlin, Kim Sukyung, Jared Reinstein, Ben Scrogins, Mary Darnell, Eddy Mroczwski, Brian Aurbaugh, and Jason May.
The Top Finalists' Prizes
Heng Zhang – $74,010 and 600 POY points
Chris Long – $49,340 and 500 POY points
Paul Chung – $36,367 and 400 POY points
Alexander Kimpel – $27,106 and 300 POY points
Michael Jagroo – $20,432 and 250 POY points
Tyler Chen – $15,577 and 200 POY points
Alan Franco – $12,014 and 150 POY points
Jamison Alford – $9,374 and 100 POY points
Thad McNulty – $7,401 and 50 POY points
The Table's Action
Michael Jagroo was the first player on the leaderboard with 2,545,000 chips when the final table's action kicked off. Zhang was second with 1,530,000 chips.
Thad McNulty got busted in ninth place. Jamison Alford followed McNulty in eighth place with $9,374. Alan Franco's run ended in seventh place after his AHeart SuitKSpade Suit lost to Tyler Chen's QHeart SuitQSpade Suit.
Chan finished sixth with $15,577, and Jagroo followed them in fifth place. Kimpel lost most of his chips to Chris Long's top pair.
Even so, the latter missed a runout and exited the tournament in fourth place with $27,106. Zhang sent Paul Chung packing in third place. The former beat Long in the last hand and won the title as his opponent received $49,340.
Start Playing Poker Online!
Here are the best Texas Holdem Poker sites in the US.