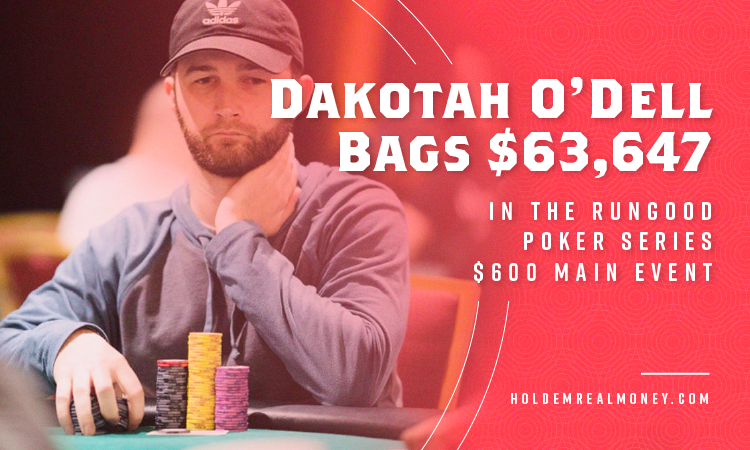 The Downstream Resort and Casino in Joplin, Missouri, recently hosted The RunGood Poker Series (RGPS) Checkpoint $600 Main Event. It was a three-day tournament. It attracted 683 players who formed a $348,330 prize pool.
Even so, the pool surpassed the tournament's initial $100,000 guarantee. Blair Hinkle and Dakotah O'Dell battled it out for the top prize. O'Dell won the event and earn his second RGPS Main Event title.
What Did the Top Nine Players Win?
Dakotah O'Dell – $63,647

Blair Hinkle – $42,427

Jason Darland – $31,210

Richard Hawkins – $23,338

Jared Ward – $17,591

Kevin Unkel – $13,411

Danny Barnes – $10,345

Jael Lewis – $8,081

John Reynolds – $6,374
The Final Day's Highlights
Many skilled players got busted early in the event, including Mark Martin, Pete Petree, Ashley "PokerFaceAsh" Frank, Joey Gargiulo, and Shantanu Garg.
Nine players formed the final table, John "Cracker" Reynolds (RGPS ring Champion) being among the short stacks. He used ace-ten to move his last eight big blinds against Jared Ward's raise. The latter used a king-ten offsuit to look up the former.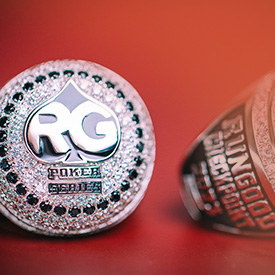 He used king-high flush to win the pot and send Reynolds packing in ninth place. O'Dell doubled up through Danny Barnes four times; for eight big blinds using king-nine, 20 big blinds using king-nine, for 35 big blinds using ace-king, and for 80 big blinds using top pair.
Jael Lewis left the table in eighth place after her ace-ten lost to Barnes' jack-eight. She put her last five big blinds in using a king-ten offsuit against Kevin Unkel's pocket queens. 
Unfortunately, Lewis lacked help and exited the tournament with $8,081.
Barnes followed Lewis in the seventh position after using king-seven suited to go all-in in the four-high board for a flush draw and king-high. Darland used ace-king to call for ace high, reducing Barnes' stack to two blinds.
The latter got busted in the next hand after O'Dell's ace-ten dominated his queen-seven offsuit. Unkel exited the event in sixth place after using nine-seven to go all-in on the flop after Blair Hinkle used ace-nine to flop the top pair.
Unkel missed the two-outer and went home with $13,411. Ward got busted in the fifth position after his ace-nine from the small blind lost to O'Dell's button open, and he failed to spot a straight or ace.
Hawkins left the table in fourth place despite having the largest stack for a while. O'Dell used ace-queen to call him when he used pocket fours to stake his remaining eight big blinds.
A tough 90-minute battle occurred between Darland, Hinkle, and O'Dell after Hawkins' elimination. O'Dell used ace-seven offsuit to raise before calling Darland's 11 big blind all-in he made using queen-ten. The former got a 2:1 stack lead after the queen ten failed to improve and sent the latter packing in third place.
Hinkle got the chip lead after using a straight to face O'Dell's top pair. An ace-high appeared on the flop, and it sent Hinkle packing in second place with $42,427 after they missed a straight and a set.
Ready To Play Online For Money?
Sign up for our recommended online poker site and play for a chance to win big prizes!