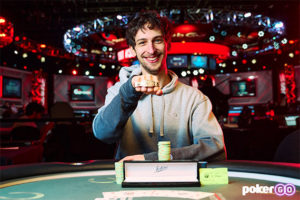 The 2022 World Series of Poker (WSOP) Player of the Year was awarded to Dan Zack on Monday after he beat Daniel Weinman by more than 600 points in the standings to claim the title.
He has been one of the players contending for the POY since 2017 and totaled 4,530 points this year at the WSOP. Zack was the top performer at this year's event and took home two gold bracelets.
Zack had 16 cashes in bracelet events in 2022. He had wins at the $10,000 Omaha Hi/Low championship in June for $440,757 and the $10,000 Stud Hi/Low championship, where he took home $324,174. In 89 events played at the WSOP in his career, he has earnings of $2,669,666.
He won purses worth $1,454,689 at the 2022 WSOP, and his win guarantees him a seat at the 2023 Main Event. He was also presented with a trophy for his accomplishment during the Tournament of Champions on Monday.
Runner-up Weinman won his first bracelet and ended with 4,040 points. 2021 Main Event winner, Koray Aldemir, finished third after reaching several final tables and made another run at the $10 million purse up for grabs in the Main Event.
However, after over 135 hours remaining unbeaten, his run ended as he finished 75th, winning $101,700. He finished 33rd in the POY rankings with 2,041 points.
Zack In Contention For Several Years
Zack won his first WSOP bracelet in 2019, where he was in the money in 14 separate events. WSOP Europe's results were included in the POY rankings that year, but Zack gave up his chance for the title by deciding not to travel to a tournament in the Czech Republic.
He still had an excellent chance to win without attending the WSOP Europe event but didn't want to spend a month away from his family.
He first cashed in an event at the WSOP in 2013 after winning the $1,125 Event #4 No Limit Hold 'em on the circuit and took home $42,662. His nine cashes on the circuit have earned him $52,282 in his career, where he has cashed a total of 98 times and earned more than $2.7 million.
The Princeton, New Jersey native, moved into the lead for POY for the final three weeks of this year's event and was one of three players to win two bracelets. Lawrence Brandt and Main Event winner Espen Jorstad also won two events at this year's WSOP.
Familiar Names Not In Race For POY
Some of the big names expected to be in the running for POY didn't have much luck in this year's WSOP. 2017 winner Shaun Deeb finished this year in fourth place with 2,970 points but didn't get many breaks in his late tournament entries and wasn't a threat to take his second title.
In addition, 16-time bracelet winner Phil Hellmuth had one second-place finish in 2022. Two-time POY Daniel Negreanu grinded it out this year, but his best live finish was 13th in Event #87: $5,000 8-handed No Limit Hold 'em as he lost more than $1 million during the 2022 WSOP.