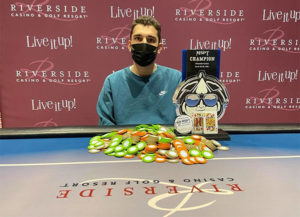 The Mid-States Poker Tour (or just MSPT) is a popular American land-based poker tournament that has returned after a long time of being played in online poker rooms. Poker players have never been more interested in taking part in it, and that's why MSPT Riverside's $1,100 Main Event was one of the biggest of its kind, attracting a total of 862 entries.
The player who managed to win the event after three days of intense poker action was Daniel Sepiol from Michigan City, Indiana. The 27-year-old poker professional managed to earn the best score of his career — a total of $162,750.
His second-best cash was about $52K, so this was a huge jump for him. Moreover, Sepiol managed to stay calm throughout the tournament, even though he played for more money than ever.
He said that he had played a lot of tournaments and had made some really deep runs. However, he also added that he had never run as deep as the final table, so it felt good to win such an important event.
Sepiol managed to win four cashes on tour, and his best achievement was reaching a ninth place in January 2019. Since then, he didn't have many opportunities due to Covid. He started the final table as one of the chip leaders and managed to stay on top until the end, meaning the danger of hitting the rail was somewhat lower compared to his other successful runs.
It wasn't an easy run for Sepiol, as he had to face some of the greatest poker players nowadays, including Phil Mader and Byron Ziebell. The good news is that both of them failed to reach the final table.
The Final Table Overview
A total of nine players formed the final table, and the first one to hit the rail was Lester Crew from Colana, Illinois, who managed to win $15,024. After that, it was time for Andy Rogowski to say goodbye to the rest. The Chicago, Illinois resident won a total of $19,197 as the eighth-placed player.
Seventh-place was reserved for Austin Hohenadel from Muscatine, Iowa, who earned a total of $24,205, and was followed by the legendary player Nick Pupillo from Gilbert, Arizona. Pupillo managed to win $31,716 for his effort.
Renato Spahiu from Lombard, Illinois, ended up in fifth place and earned $41,732 for his achievement. After that, Jovan Sudar from Omaha, Nebraska, waved goodbye to the remaining three players and took home a total of $55,086. The last player to hit the rail before the heads-up was Kyna England from Northbrook, Illinois, who won $73,382.
The last player that Daniel Sepiol had to face in the heads-up play was Jason Crews from Ankeny, Iowa. However, Crews had to go for the consolation prize of $100,156 after losing to Daniel Sepiol. The heads-up play wasn't easy for Sepiol, but he managed to emerge on top nevertheless, winning the biggest cash of his career. More importantly, he won the MSPT Riverside Main Event trophy.