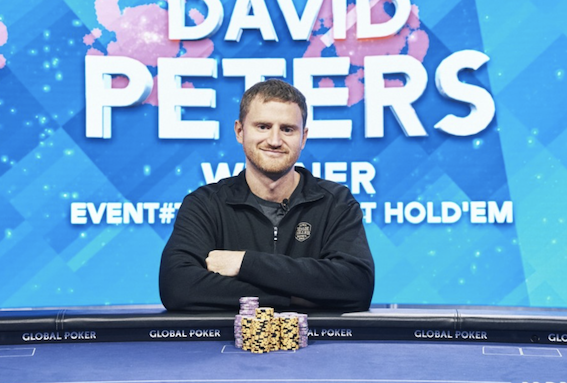 David Peters has officially become the only two-time winner in the 2021 US Poker Open. He managed to defeat Ali Imsirovic in the heads-up of Event #10: $10,000 Short Deck and win a total of $124,200 as his final prize. The event took place at the PokerGO Studio at the ARIA Resort & Casino.
The first time Peters managed to win a title in the 2021 US Poker Open was at Event #7 when he took part and topped Event #7: $10,000 No-Limit Hold'em, winning a total of $217,800 for his prize. Then, however, Peters had displayed his real money poker prowess, which is why he is considered one of the best players in the US (and arguably the world).
Even though he won his second title at the festival, he is still not the US Poker Open Championship table leader. He climbed from fifth to second place, but the top position is still #1 as he managed to show outstanding results at most events.
Event #10 attracted a total of 27 entries, and the final prize pool was $270,000. However, the final table consisted only of four players. Peters' final table opponents were Thomas Kysar, Cary Katz, and Ali Imsirovic.
USPO Event #10 | Final Table Recap
David Peters had two-thirds of all chips at the start of the final table action, so he was immediately the clear favorite for the title. On the other hand, Kysar, Katz, and Imsirovic all had healthy stacks and were ready to go into battle with Peters right away.
The first player to hit the rail was Thoms Kysar. Unfortunately, he managed to snatch a total of $27,000 as his prize, as his queen-nine was not good enough for Peters' queen-jack suited.
The next one to say goodbye was Cary Katz, who won $43,200 for his effort. He tried jamming queen-ten suited, but the attempt was unsuccessful, having stumbled upon Imsirovic's queen-jack suited.
By the time the heads-up started, it was already clear that there will be a two-time winner at the 2021 USPO, as both Peters and Imsirovic managed to win one event each, which made the finale even more exciting.
Even though Peters was dominant, Imsirovic was a hard nut to crack. He managed to hang around for an hour and a half before losing to Peters. During the last hand, Imsirovic jammed the river after bricking with queen-eight. The board ran A, 10, J, 6, 6 and helped Peters, who had jack-ten, to end his run. Therefore, Imsirovic had to settle for the consolation prize of $75,600. Despite that, the talented player from Bosnia & Herzegovina remained at the top of the leaderboard and is currently tailed by Peters.
Imsirovic recorded a total of five cashes and one win, collecting a total of 483 points, whereas Peters has two wins and three cashes, which resulted in 367 points. Moreover, the total amount that Imsirovic has earned so far at the tournament is $482,000, while Peters earned $367,200.