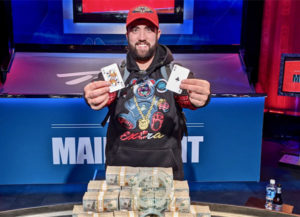 The WSOP Main Event finally came to an end, and it wasn't as smooth as expected. Even though Joseph Hebert managed to win the tournament for $1,553,256 and a gold bracelet, it seems that he has had an easier job than expected.
Namely, one of the players — Upeshka De Silva — tested positive.
De Silva Disqualified
De Silva is a popular poker player who has won three gold bracelets at WSOP events. He was aiming for the fourth one and has never been closer, as he reached the final table of the WSOP Main Event.
However, due to him reportedly testing positive for COVID-19, he was disqualified just a couple of hours before the final table action started.
This piece of information became available on Sunday night after Joey Ingram tweeted that De Silva had tested positive and had been disqualified.
The rules for playing the WSOP Main Event final table were rather clear — whoever tests positive for COVID-19 would have to be disqualified in order not to endanger the health and safety of other players. De Silva received the minimum payout for the final table.
According to him, he had been quarantining since Dec. 10, but it seems that he failed to do it successfully, testing positive on Dec. 20. He repeated the test on Dec. 26, and it was confirmed that he was positive, resulting in his disqualification.
WSOP Main Event Ends Eight-Handed
The 2020 World Series of Poker (WSOP) Main Event had a bit of a complicated structure. There were two main events — one in Europe (international) and one in the US. We've witnessed the US branch come to an end, with Hebert winning the title.
The US Main Event attracted 705 players, and the top eight (without De Silva) entered the poker room of Rio All-Suite Hotel & Casino, where they completed the competition facing each other on the real felt instead of the virtual one.
Hebert devoted his victory to his late mother, Linda. Even before winning the event, he has been vocal about his determination to win the event and devote it to his mother, who died a few months before that after a pulmonary embolism.
Needless to say, Hebert was emotional after winning the event, saying that it felt like he had been dreaming. He added that he had thought about his mother and that the victory had been for her.
Hebert faced Ron Jenkins in the heads-up, but Jenkins had to settle for the consolation prize of $1,002,340.
Third place was occupied by Michael Cannon, who won a total of $529,256. Ryan Hagerty ended up fourth for $387,130, and Ye "Tony" Yuan was fifth for $286,963.
Sixth place belonged to Harrison Dobin, who earned $215,222, and was followed by Shawn Stroke, who earned $163,786.
Gershon Distenfeld ended up eighth and was the first person to leave the final table, winning $125,885. De Silva was disqualified and received the minimum table payout of $98,813.