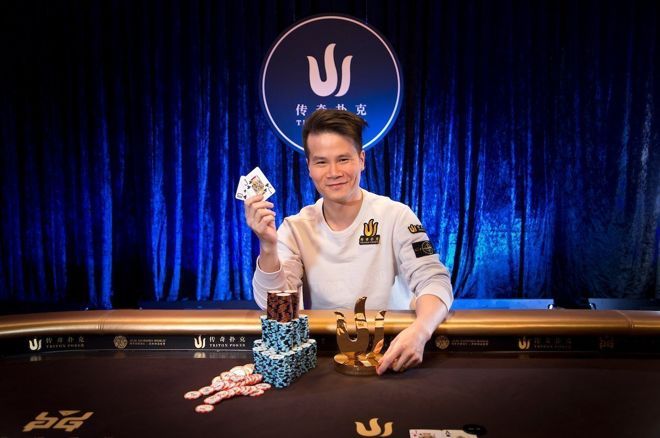 The Landing Casino hosted another tournament called 2019 Triton Poker Super High Roller Series Jeju which has seven events. The second one, called Event #2: HK$250,000 NLH Short Deck Ante Only was won by Devan Tang, who managed to win in the heads up play against Peter Jetten from Canada. Tang won a total of HK$9,730,000, which is $1,239,759 when converted in US dollars. Despite the currency, the sum that Tang won is quite a considerable one and he couldn't help but express his happiness about the victory.
Tang shared his enthusiasm with the press after the victory, claiming that he was very happy about it. Furthermore, he added that he had gotten very lucky the whole way and that it had been a tough field. Tang concluded that players who had played tournaments that big and made it to the final table are required to give their best at that moment. The total sum of Tang's lifetime earnings in poker is now  $6.2+ million, which makes him the second most successful player in China when measured by the amount of money earned. The all-time money China list is still topped by Elton Tsang, who has won more than $12 million so far. This sum won by Tang is his second-largest score, as he had managed to earn a total of $1,405,500 in the 2016 Triton Super High Roller Series Philippines.
The Final Table
There were a total of eight players who made it to the final table, and the first one to hit the rail was Paul Phua from Malaysia, who managed to win a total of HK$1,300,000 ($165,641). He was followed by a player from Belarus called Mikita Bodyakovskiy, who won HK$1,650,000 ($210,237). Sixth place was reserved for Leong Wai from China, who took home HK$2,075,000 ($264,388). The next two places were occupied by two American players who are some of the most popular poker aficionados in the US. The first one ended up in fifth place, and his name is Isaac Haxton.
He managed to snatch a total of HK$2,660,000 ($338,927). The next player is Jason Koon, who ended up in fourth place and won HK$3,435,000 ($437,674). Third place was occupied by a Frenchman Arnaud Romain, and his prize was HK$4,540,000 ($578,469). Finally, the heads up play was between Peter Jetten and Devan Tang. The final hand of the game was pretty exciting as Jetten started off better with an ace-jack against ten-jack suited. However, Tang eventually managed to make a straight which and win the whole thing. Jetten had to settle for second place and the money prize of HK$7,040,000 ($879,010)