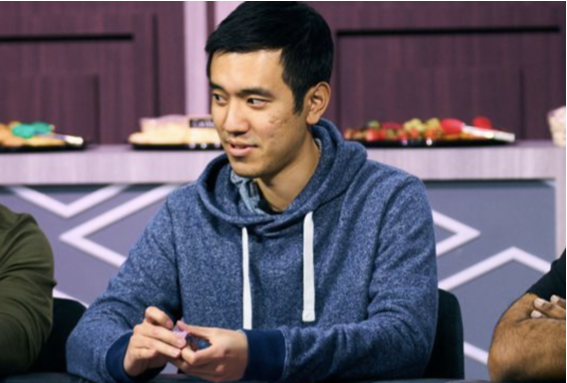 Besides his business endeavors, Stanley Tang is an avid poker player and has a total of four cashes in World Series of Poker (WSOP) events.
Last month, the 29-year-old billionaire DoorDash co-founder and tech entrepreneur finished second at the Wynn Millions $15,700 No-Limit Hold 'em tournament and most recently had a fourth-place finish at the 2022 April Aria High Rollers $15,000 No-Limit Hold 'em event.
In a new episode of High Stakes Poker this past Monday, Tang made his first appearance. He likes to compete in private cash games and showed some potential by playing solid poker in episode ten in Season 9 of the series. He showed what it takes to run deep at the felt.
Tang Starts Strong
On Monday night's episode, the players featured in the $500/$1,000 No-Limit Hold 'em cash game were different from last week's episode. Three new players entered the game, including Tang, Eric Persson, and Krish Menon.
They competed against Tom Dwan, Bryn Kenney, Phil Ivey, and Garrett Adelstein. Persson started the episode with the biggest stack totaling $536,500, while Ivey held the short stack of $71,000.
Right from the beginning, Tang went against Ivey, who holds ten WSOP bracelets, with the legend holding J-D, 8-D. The board showed 10-D, A-S, 5-C, 9-S, 10-S, which wasn't much help to Ivey. He gave up on the attempt to bluff on the river with Tang holding 10-C and 7-C and lost $45,000 to the DoorDash co-founder.
Persson would also try to bluff Tang later, with his attempt getting a much better result than Ivey's. He bluffed with a bet of $22,500 on the turn with a hand of 7-H, 2-S, and the board showing Q-C, J-H, 8-D and 8-S.
Tang called to then see the J-C on the river, making two pair on the board. Persson continued representing a big hand by betting $63,000, and Tang then folded his winning hand of two pair, holding Q-H, 10-H.
Tang Runs Deep, But Falls
Going against Menon for a nearly $600,000 pot, Tang held A-C, K-H, and Menon had 10-D, 10C before the flop. Menon moved all-in with $287,000, with Tang calling with his $241,000. The players then agreed to run it twice for the big pot.
The first run was 10-S, A-H, 5-H, K-S, 3-H, which wasn't good for Tang as Menon hit trips, and two of his outs were wasted. The second run came out J-C, 3-C, 2-H, 4-D, Q-S, and Krish would rake in the entire pot to send Tang home for the night.
Tang's overall finish wasn't what he had hoped. The highlight of the night for the young billionaire, however, was taking down a big pot against Adelstein, a legend in high-stakes poker from Los Angeles.
Tang had an open-ended straight draw but caught two pair on the river. Adelstein couldn't convince himself to continue his bluff on the river with his pair of sixes.
When both players checked on the river, Adelstein seemed upset once he saw what Tang was holding. He realized that he could have maybe taken the hand with a big bet on the river.