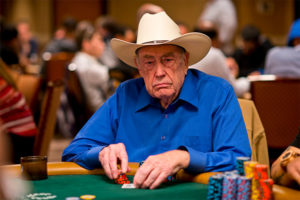 Ten-time WSOP bracelet winner and poker legend Doyle Brunson recently discovered items with his autograph for sale on eBay. He wasn't happy to see so many of them posted by sellers on the popular eCommerce site.
As a result, Brunson later tweeted that he won't be signing any more autographs for fans. He is one of the few poker players that is regularly asked for his autograph when seen in public and is disappointed that fans look to profit from his fame.
There are currently more than 70 items on eBay with Brunson's autograph, mostly selling for around $100 each. The items include things such as photos and playing cards, with a few of them priced upwards of $400.
He has been generous in accepting mail from fans requesting autographs in the past but may now stop doing that since so many of them want to make money from his signature.
Items Will Only Increase In Value
After discovering the items for sale, Brunson tweeted on Thursday:
I just went to e-bay and saw where most of the autographs i've signed are on sale..every letter says they are my biggest fan and want to hang the 2 pictures on their wall. I won't be signing any more!!

— Doyle Brunson (@TexDolly) July 21, 2022
Several fans responded, pointing out to Brunson that his future refusal to sign autographs will only increase the value of the current items listed online and any other items that may be available with his signature.
The value of Brunson items would have probably increased in value soon anyway, with a documentary and biopic based on his life currently in production.
Radar Pictures has acquired the rights to produce a movie based on Brunson, one of the most accomplished poker players in history. He recently ended his career of more than 50 years as a professional.
However, few people know that he was an accomplished athlete in his younger days. Brunson was an All-State basketball player in Texas and won the one-mile running event at the Texas Interscholastic Track Meet in 1950 with a time of 4:43.
Brunson Had NBA Dreams
His talent on the basketball court drew interest from the Minneapolis Lakers when attending Hardin-Simmons University in Abilene. Still, a knee injury ended his dreams of playing in the NBA.
Brunson had already started playing poker by that time and used his winnings to help pay his living expenses. He finished his education with a master's in administrative education in 1955.
Brunson retired from poker in 2018, but the 88-year-old Poker Hall of Famer still makes an occasional appearance at the WSOP and attended the 2021 event.
He is tied for second place with greats Johnny Chan and Phil Ivey with ten bracelets and trails only Phil Hellmuth and his 16 bracelets at the WSOP.
However, his two wins at the WSOP Main Event are the most distinguished accomplishments on his lengthy resume. His last cash at the WSOP was in 2018 when he finished sixth in the $10,000 No-Limit 2-7 Lowball Draw and took home $43,963. Brunson's career earnings top more than $6 million.