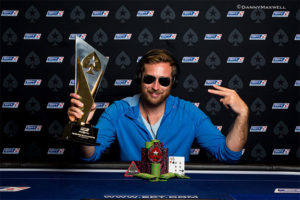 The 2020 Spring Championship of Online Poker is already underway, but one player has stolen the spotlight from everyone else, and his player is Connor Drinan. The popular "blanconegro" has managed to win five titles in 2020 SCOOP, creating history along the way.
The last event he won was SCOOP-75-H: $10,300 PLO (6-Max, PLO Main Event). The event attracted a total of 159 high rollers, and the starting guaranteed prize pool was $1.25 million.
Drinan managed to get it right once again, and won $322,264 for his effort. Before this victory,
Drinan had a tied score with Saun "shaundeeb" Deeb, who managed to win four SCOOP titles in a single year.
However, Deeb's record has now been overtaken by Drinen, who will definitely go down in poker history books.
SCOOP-75-H Final Table Overview
Although it seems that Drinan had an easy job to do, it was anything but, as he had to face some really great poker players along the way.
During the final table, he met with some of the best players around the globe. The Swiss poker pro, Linus "LLinusLLove" Loeliger had to hit the rail first, winning a total of $66,762.
The next one in line was the popular UK poker player Talal "raidalot" Shakerchi. He managed to win $82,322 as the sixth-placed player in this event.
His fellow countryman Gavin "gavz101" Cochrane lost all chips next. Cochrane won $108,157 for taking part in this competition.
Fourth place was reserved for a player who goes by the nickname "Kukenmuser" from the UK. They managed to win $142,100.
Joao "Naza114" Vieira from Portugal was the last player to hit the rail before the heads-up play. If he had won this event, that would have been his second SCOOP title this year.
He managed to make it to the top four three times, and one time he managed to tin a title. The other two SCOOP-H events he took part in are Event #62-H where he won $102,900 and Event #52-H for $240,744
The last opponent that Drinan had to was Jens "Jeans89" Kyllonen form Finland. The two players were almost equally determined to win the event, and that's why we were able to see some great poker action.
They took two full hours to complete the heads-up after both took their turns of being significant chip leaders.
However, it was Drinan who celebrated the victory in the end. Kyllonen had to settle for the consolation prize of $245,286. This was the fifth event title for Drinan and the second high-stakes PLO SCOOP Event title.
The first one that he won was just nine days ago when he managed to take down Event #40-H that required a $5,200 buy-in.
This is a great success for Drinan, and we're going to see more of him in the future. Will he be as successful when live poker tournaments return?