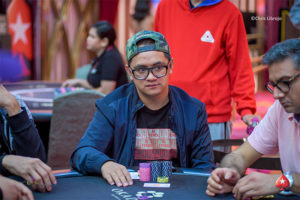 Lester Edoc from Hong Kong managed to top the field in GGPoker's High Roller MILLION$ event, winning a total of $285,000 for his effort.
The Multi MILLION$ is GGPoker's latest project: A series of tournaments where players can take part in events during the week. However, Sundays are reserved for the final days of these events. These events offer more than $3 million in guaranteed prizes.
The High Roller MILLION$ attracted a total of 687 entries. Players had to pay a total of $500 to buy their place in this event, and the top 512 players had an opportunity to take a slice of the cake.
The cake offered $2 million guaranteed, and the minimum cash was $1,226. We had an opportunity to see some exciting poker action, especially during the final table.
Let's take a look at the final table and how it played out. Read on!
The Final Table Overview
The first player to hit the rail was Brazil's Luis Faria, who uses the nickname "ChurrilhoMaluko" in online poker. He managed to win $19,042, which was the minimal prize set for the final table players.
He was soon followed by "THEfaryboy" from The Netherlands, who won a total of $26,714. The next player in line was "ExoticJoe," a player from Ireland who collected $37,476 as seventh-placed.
Ivan Luca, also known as "Negriin" in online poker, is a player from Argentina who made it to sixth place in this event, winning a total of $52,573. After him, it was time for Simmon Higgins to hit the rail in fifth place. The prize for his effort was $73,753.
Higgins fell short of winning a six-figure score, as the remaining four players all won at least $100,000 for their effort. Nevertheless, turning $500 buy-in into his prize is definitely a huge success.
The player who left the game in the fourth position was "00COEL" from Croatia, who managed to win a total of $103,465. An Albanian player "supermoustache" was the last player to hit the rail before the heads-up play. They won a total of $145,146.
The final opponent that Lester "mon$terDad" Edoc had to face in his effort to win the main prize was a German player "Lucky_Luke1." The two players had an opportunity to strike a deal as there was room to do something like that.
However, they decided to play to the very end and battle for the final prize. In the end, "Lucky_Luke1" failed to beat Edoc and had to settle for the consolation prize of $203,618. On the other hand, the winner from Hong Kong celebrated an important victory.
Many exciting events are going on right now that are part of GGPoker's Multi MILLION$. Some of the best players in the world decided to take part in them, including Timothy Adams, Andras Nemeth, Isaac Haxton, and more.