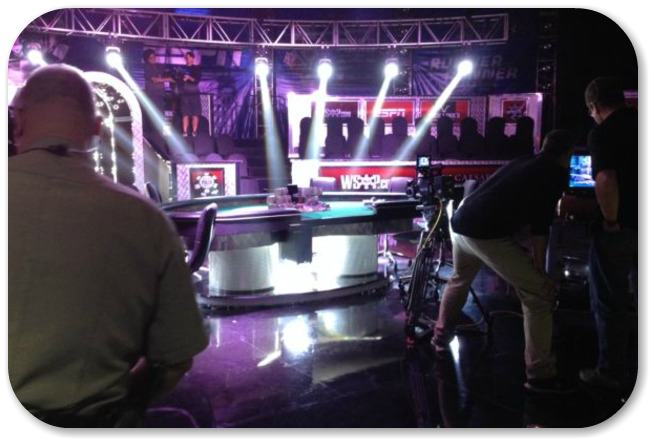 Many professional poker players were putting in high volume over the summer during the World Series of Poker (WSOP) held in Las Vegas. The WSOP Main Event is the most talked about live tournament in the poker schedule.
ESPN and the WSOP have announced that it will televise coverage of the 2016 World Series of Poker in early September on the world's leading sports network. The network's WSOP coverage will begin with the Global Casino Championship, which airs Sept. 6 at 10 p.m. eastern across two episodes back-to-back.
Following this will be the Main Event Championship, which of course includes the Main Event Final Table action that has been scheduled over three days. Coverage for the main event kicks off on Sunday, Sept. 11 at 8:30 p.m. eastern.
Episodes will primarily go to air on Sunday evenings and it is split between being on ESPN and ESPN2. The commentary box will see several familiar faces, including Lon McEachern, Norman Chad and Kara Scott who will be calling all the WSOP live action, as well as pro analysis which will be provided by poker pros Antonio Esfandiari and Phil Laak.
Coverage by ESPN will end with the live final table starting from Sunday, Oct. 30 to Tues, Nov. 1. A Final Table Encore has also been scheduled, which will show the best action from the 3-day live 2016 WSOP ME final table, as well as of course the winning moments.
Live action was captured with a 30-minute delay and an edited version of the 2016 WSOP will be aired a few weeks later. For this year's World Series, ESPN will be using a new live set for the tournament, and will make use of a techno-jib camera to get a better shot of the action.
ESPN's 2016 World Series of Poker Main Event coverage will be on at the same time as Sunday Night Football, and on Oct. 31 it will be competing against Monday Night Football. It will be interesting to see the TV ratings, because many sports fans watch the NFL and it's stiff competition to say the least.
ESPN's WSOP Coverage Will Begin On Day Four
A change made this year will result in the broadcast starting from Day Four of the Main Event instead of Day One. CardsChat writer Jon Sofen asked Norman Chad why this change occurred, and his response was,
Any question you can ask me about anything in television essentially leads to the same answer: money. They save money by creating the same number of telecasts out of fewer days. So someone decided to cut out the six extra days of production costs for Days One to Three.
TV Schedule for the 2016 WSOP
The 2016 WSOP ESPN TV Schedule has been posted at the Poker News website.