An online real money poker festival called the Millions Superstorm is said to be the biggest of its kind that has taken place on 888poker so far, as it comes with more than $8 million in guaranteed prizes and 480 events. The festival officially started on September 10 and will last until October 11.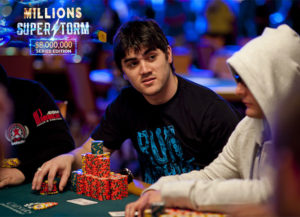 One of the events that already gained a lot of attention is the two-day $320 888Millions Superstorm Sunday Special, where Fabrizio "DrMiKee" Gonzales managed to win the final prize of $19,350.
The player from Uruguay needed a total of nine hours to top the event that attracted 402 entries (311 players and 91 re-entries). This was the biggest event thus far that is part of the Millions Superstorm, and it came with a $100,000 prize pool. Gonzales took the lion's share of the pool, winning a total of $19,350 as his final prize.
The Uruguayan player has already had a lot of success in the past, as he is an active online poker player. He managed to win more than $6 million in online earnings, with $400,000 coming from 888poker only. Gonzales actually didn't win an 888 even for a long time, as the last one happened in June 2018, when he won $20,000 Mega Deep for $4,600. Moreover, his biggest cash on the platform was back in 2017, when he took place in XL Inferno $126 – $400,000 Super HR Chip-In, where he managed to receive $98,415.
Gonzales also takes part in land-based tournaments from time to time and has managed to earn $2,318,472 in live cashes so far, which made him #1 on Uruguay All Time Money List, according to his Hendon Mob profile.
The Final Table Overview
The final table consisted of nine players, but only Gonzale's true identity was revealed.
The first player to hit the rail was "nezar4ouph" from Canada, who won a total of $1,750.
They were followed by Brazil's "guizones27" for $2,400, and "SouTheMan" from Malta for $3,400.
The sixth place was reserved for another Canadian player who uses the online moniker "hmmmcannucks." They managed to win a total of $4,400.
"THEPWNER" ended up fifth for $5,700, and and "Pigh6785" from Canada followed soon after for $8,250.
The last player to hit the rail before the heads-up play was "algsxr," who won $11,000.
Gonzalez's final opponent was "alexkoab05" from Canada, who managed to win a total of 14,500 as the consolation prize.
Many other events took place as part of the 888Millions Superstorm, meaning many more players were crowned winners. In fact, dozens of daily events take place as a part of the festival. Moreover, the Main Event is currently underway, with 660 entrants record (88 re-entries).
The Main Event has a $1 million guaranteed prize, so we could expect a lot of great poker action once the event reaches the final table.