Wynn Resorts, Las Vegas, successfully hosted the $10,400 World Poker Tour (WPT) World Championship. It attracted 2,961 players. Eliot Hudon won the tournament and took home $4.1 million.
The poker festival provided over $22 million in guaranteed prize pools in 23 tournaments. Still, it recorded a huge turnout.
Some of the side event title champions included Ethan "Rampage" Yau, Calen "Big Wheel" McNeil, Sergio Grosso, Christopher Puetz, and Lawrence Berg.
Federico Cirillo Wins $1,600 Mystery Bounty
The $1,600 buy-in $2 million guaranteed Mystery Bounty occurred between December 16 and December 19, 2022.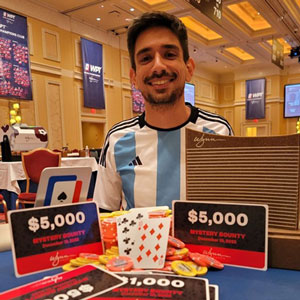 It attracted 3,715 players and had three starting flights. The entrants doubled the event's guarantee and formed a $5,386,750 prize pool.
The Final Table's Results
Federico Cirillo from Italy-$482,852
Aditya Systla from India-$323,688
Daniel Michaels from Los Angeles, California-$251,987
Dave McGowan from Chicago, Illinois-$181,617
Shawn Buchanan from Canada-$142,980
Ryan Smith from Canada-$111,535
Ivan Emanuely from France-$85,833
Gabriel Abusada from Tomball, Texas-$66,674
Ryan Brown from Ellicott City, Maryland-$52,169
The leading 404 entrants resumed playing on Day 2, and each of them won money. Some popular players with deep runs included Jeff Madsen, Mark Seif, Ren Lin, Daniele Nestola, Greg Himmelbrand, and William Lahti.
Each of the tournament's top six finalists got six-figure payouts. Cirillo won the top prize late on Day 2.
Dylan Linde Wins the $10,500 NLH High Roller
The $10,500 NLH High Roller took place on December 18, and it attracted 144 players who formed a $1,440,000 prize pool.
Yet, the top 15 players only shared the pool, including Patrick Bruel, Ryan Leng, and Justin Bonomo.
The Final Table's Results
Dylan Linde from Las Vegas, Nevada-$434,304
Cherish Andrews from Chambersburg, Pennsylvania-$259,200
Corel Theuma from Malta-$164,160
Timo Kamphues from Austria-$112,320
Pavel Plusev from Czech Republic-$82,800
Jakob Miegel from Austria-$66,240
Aram Oganyan from Armenia-$54,720
Vikenty Shegal from Las Vegas, Nevada-$45,936
Nadya Magnus from Boca Raton, Florida-$39,370
Cherish Andrews and Dylan Linde clashed in a heads-up battle after other players left the table. Linde is renowned for Mixed Games, and he showcased his poker skills when he defeated Andrews to bag $434,304.
David Peters Beats Farid Jattin and Wins $5,200 Progressive Bounty
The $5,200 buy-in $250,000 guaranteed NLH Progressive Bounty played in December. 181 entrants signed up and created a $532,140 prize pool that the top 20 finalists shared.
They included Igor Yaroshevskyy, Elio Fox, Nick Schulman, and Uri Reichenstein. Farid Jattin lost heads-up action to David Peters at the table and took home $88,388.
The Final Table's Results
David Peters from Las Vegas, Nevada-$147,916
Farid Jattin from Miami, Florida-$88,388
Jakob Mieger from Austria-$56,992
Jim Collopy from Las Vegas, Nevada-$39,059
Ryan Riess from Las Vegas, Nevada-$28,762
Taylor Wilson from Wheeling, West Virginia-$22,749
Shannon Shorr from Las Vegas, Nevada-$18,636
Yong Wang from China-$15,805
Adam Hendrix from Anchorage, Arkansas-$13,570
Cherish Andrews Wins the $1,100 buy-in $200,000 Guaranteed No-Limit Hold'em
The tournament took place on December 19 and attracted 736 players who created a $721,280 prize pool. But, the top 80 finalists shared the pool, including Daniel Weinman, Rex Clinkscales, Josh Reichard, Dylan Collingwood, Stan Jablonski, and Angela Jordison.
Andrews bagged the $131,912 top prize despite winning $259,200 after being the runner-up in the High Roller. She beat Rob Wazwaz in a heads-up match.
The Final Table's Results
Cherish Andrews from Chambersburg, Pennsylvania-$131,912
Rob Wazwaz from St. Paul, Minnesota-$86,482
Jeremy Kottler from Ojai, California-$58,784
Mike Gao from Roslyn, New York-$41,618
Conrad Simpson from Wilmington, North Carolina-$30,727
Daniel Song from Los Angeles, California-$23,802
Spencer Champlin from Las Vegas, Nevada-$19,114
Michael Sandler from Orange, New Jersey-$15,868
Seungmook Jung from Korea-$13,382
Ready To Play Online For Big Prizes?
Sign up at our recommended US poker betting sites, claim a bonus and start having fun.