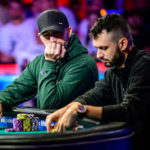 It's hard to believe that this WSOP top-five player was working for PokerNews back in 2008 running the live reporting team that covered the WSOP's Main Event. He switched from behind the camera to in front of the camera for this year's championship eleven years later playing for millions.
With each year Gates cemented himself into the role of one of the most loved members of the poker community. After his emotional elimination in fourth place last week, the audience chanted his name in support to celebrate an impressive run and good sportsmanship.
His Work Before the Championship
During his decade long run in the poker industry, he has acquired countless acquaintances and friends. Having worked with hundreds of high rollers through his work, he worked his way up to Senior Consultant of Player Affairs for the company PokerStars Live. Many of these players that he consulted turned into close friends who attest to Gates's charisma and friendliness.
His Deep Run
After a good start during the final table, Gates went into 5-handed play during Monday night's game. He had a healthy 2nd place stack of chips. Unfortunately, things didn't go his way on Day 9, and he eventually ended up with the short stack and moved forward with pocket sixes during the small blind. Unfortunately, he ran into Alex Livingston's pocket queens during the big bind.
Having been the star of Day 8, leaving the table in second place, the elimination came as a shock to both players and the audience alike. Ensan even commented on the turbulent nature of poker and how the leaderboard means nothing using Gates as an example.
Gates had nothing but good vibes and positive things to say when his impressive run ended. He was seen tearing up when his elimination was made final, but who can blame him? Gates admits that coming into the top five he had hoped for a better result, but he acknowledges that he is fortunate to have gotten so far.
"Thrilled and fortunate"
When asked what has changed for the player he bluntly refers to his new millionaire status. He goes on to say how thrilled and fortunate he feels to have his debt wiped clean and the opportunities that await him and his family back home. Gates's daughter is said to be extremely proud of her dad and couldn't believe it when she saw him on television.
This is certainly not the last time that people will be seeing Garry Gates. Even after his emotional elimination, Gates showed great sportsmanship and humbleness that made fans teary-eyed. Fans are rooting for a comeback, and the sky is the limit for this poker player.
The final table is set to take place on July 16th hand will have the final three seated and battling for the top spot. Ensan seems to be the likely winner if his winning streak is anything to go by, but as he himself has stated, the leaderboards have led to surprise victories before, so fans will have to wait and see.