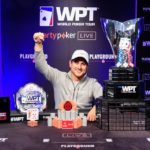 Although the final table of the World Poker Tour Montreal CA$3,300 Main Event included four star poker players, none of them managed to win the title. In fact, the heads-up play was between two players who have not (yet) reached poker stardom: Geoff Hum and Adedapo Ajayi.
Other players that made it up to the final six were all popular poker professionals: Martin Jacobson, Kristen Bicknell, Mike Watson, and Joe Cheong. However, sometimes, no matter how professional you are, recreational players such as Hum still have some chance to win the game. That's the beauty of poker.
Hum was excited about his victory, stating that it was pretty sweet to join the tournament as a non-pro and get the best possible result. He also told the reporters that he felt awesome about the victory, and who wouldn't?
The field consisted of 1,109 players, so that's another thing to take into account when talking about Hum's victory. Going through a field this big requires a lot of focus on the game, and that's pretty difficult if you are a recreational player like Hum.
The tournament had three starting during three days, and participants managed to create a prize pool that exceeded CA$3 million. The top 159 players made it to the money list, and some of the players that made it that far included Ema Zajmovic, Toby Lewis, Kitty Kuo, and Mike Sexton.
The Final Table Results
At the start of the final day, there were only 10 players remaining in the game, and Cheong was the chip leader at that point. In the top 10, there were additional poker stars, including Mike Leah and Kelly Minkin. Both of them busted before the beginning of the final table, which consisted only of six people.
At the time the final six created the final table, Cheong was still leading, but everyone else had between 36 and 96 BBs, meaning there was room for a long final part of the tournament. In other words, a single all-in pot could make significant changes in the counts.
At the start of the final table, the first player to hit the rail was Jacobson. The Swedish player managed to earn a total of CA$110,000 as his main reward. Bicknell, a popular Canadian poker player, was the next one to follow, ending up in fifth for CA$140,000.
Watson, who was also playing on the home ground, was fourth and snatched a total of CA$180,000. After him, it was Cheong who paved the way for the unlikely heads-up to take place. He won CA$235,290.
The remaining two players, Ajayi and Hum, entered heads-up play with more than 60 BBs each. However, the battle was relatively short, as Hum managed to win the tournament. Ajayi had to settle for second place and a reward of CA$335,000, while Hum won CA$500,000.