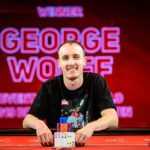 Poker Central's British Poker Open tournament included a pot-limit Omaha event that required a £10,000 buy-in. In the end, a poker aficionado named George Wolff emerged a winner. 
Wolff managed to beat the field, which consisted of 30 players. This is a bit more compared to the first event of this kind, which saw a total of 26 entries. Wolff managed to win a total of £120,00z0, which is approximately $147,000.
This was, actually, a crucial victory for Wolff simply because it is his first recorded live victory. At this moment, Wolff has more than $800,000 in chases. He stated that the final table had been really tough, comparing it to any high-stakes cash poker game. Moreover, he added that he had been playing a lot of tournaments in the past eight or nine months and that it felt great to win one finally.
Wolff had a great day and managed to enter the final table as the chip leader. In fact, he had twice as many chips as the next competitor at the start of the final table, so it was pretty apparent that he was one of the favorites for winning the final prize. 
The way he managed to obtain chip lead on the first day was, among other things, by eliminating some of the great names in poker such as Cary Katz and Anton Suarez. Therefore, at the start of the second day, he was the absolute leader, which is probably something that inspired him to win the event as well.
The Final Table
The bubble burst when Jens Kyllonen was short stacked and lost to Sam Soverel. The poker legend was the last one to hit the rail before the final table was formed, consisting of five players. 
Another Finnish player was next in the line as Joni Jouhkimainen was the first player to cash. He did not have much luck as he first ran into a set of aces that Gavin Cochrane had, and Stephen Chidwick soon finished him off.
The total amount of money that Jouhkimainen won was £24,000. The next player to hit the rail in the fourth place was Cochrane from the UK, who ended up with a prize of £30,000. 
Chidwick was the player who was eliminated after the three-handed war, following a lengthy play. All three of the remaining players had almost an equal number of chips, and everyone had a fair shot at the title. Nevertheless, Chidwick ended up third and won £48,000.
The two players who remained in heads-up play were Soverel and Wolff. At first, Wolff had a lead, but Soverel managed to get it back. Soon after that, both players were under 20 BBs. 
Eventually, Wolff managed to win the event after the two players had approximately 12 BBs left, and Soverel had to be satisfied with a consolation prize of £78,000.