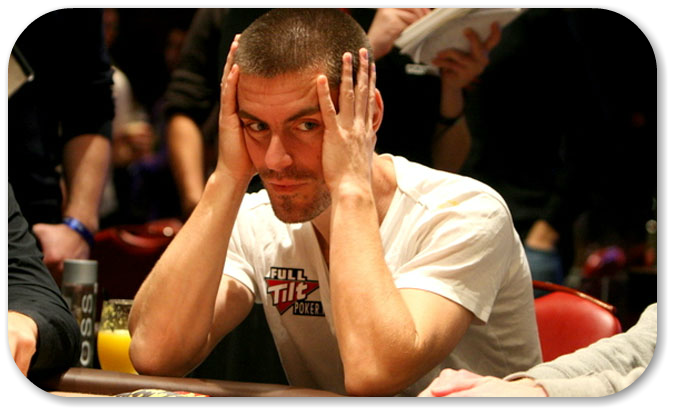 Danish poker pro Gus Hansen has recently returned to the online poker tables after nearly a two year break from the game after being $21 million in the red. The three-time WPT champion dropped $20.7 million on Full Tilt going back as early as 2007 and $1.3 million on PokerStars since 2012. This week he came back on PokerStars under the account name "broksi". He was seen playing at the $200/$400 TD and FLO8 tables and ended up making a small profit from the session.
The "Great Dane" as he is known in the online poker community was honest about the poor results he was having online at the time. In 2015, Hansen admitted his "tilt factor" was "about the worst in the world." And if you rate his "table selection" it "would be about the worst that has ever been seen."
It is hard to argue with his own assessment – especially when you look at the former opponents he faced off with in high-stakes online cash games. He used to play as high as $2000/$4000 on Full Tilt Poker against the best of the best that have made a lot of money in cash games, such as Phil Ivey, Patrik Antonius and Tom Dwan.
Many online poker fans have been perplexed how Gus Hansen could afford to lose this amount of money he has without completely going broke. However, according to rumors which have surfaced on the Internet, he has a significant bankroll at his disposal because he made a killing in high stakes backgammon before entering the crazy world of high-stakes poker.
Gus had some sick PLO sessions on Full Tilt Poker back in the day when high-stakes cash game action run around the clock. Thousands of railbirds logged in to Full Tilt Poker to see Gus Hansen's high-stakes cash game adventures, as they always provided plenty of thrills and excitement; you can guess their reaction after Hansen was seen back at the tables this past week. Although how frequently he will now play again is anyone's guess. But if there is one thing you can say about the Great Dane is that he is no quitter.
Hansen Was Playing High-Stakes Mixed Games at The Bellagio
Prior to returning to the online felt, Gus Hansen was playing in high-stakes cash games in Las Vegas. Daniel Negreanu recently blogged about playing with the former Full Tilt Red Pro in a $1,500/$3,000 Mixed Game with an 11-Game Mix at The Bellagio along with other old school regulars. You can read the full blog post on Full Contact Poker.
Will Tom Dwan Make A Return?
With Gus Hansen's return, many people are wondering if Tom Dwan is considering the same? It is a little odd not seeing him, as he could be seen playing in the biggest online and live cash games on television. He was also raking it in online on Full Tilt against opponents like Gus Hansen.