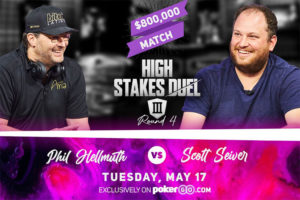 Phil Hellmuth and Scott Seiver will meet again for Round 5 of High Stakes Duel III in a rematch of their first match in which Hellmuth won.
The matchup should be the biggest draw for the upcoming show, as both players paid an $800,000 buy-in to continue their rivalry. This is also an important event for both men, as Hellmuth will attempt to prove that he's one of the world's best heads-up players.
Seiver is trying to come back after losing his first match against Hellmuth and is the favorite to win this time. Many feel he's a better overall player than Hellmuth with his more than $25 million in live earnings to date.
However, Hellmuth, a 16-time WSOP bracelet holder, is out to prove he can still win against anyone. He currently has a 9-1 in High Stakes Duel, with his only defeat coming against Tom Dwan, who replaced sports journalist Nick Wright for Round 2 of the competition.
Poker Brat Hopes To Silence Critics
Hellmuth faced Dwan for the second time in Round 3 and, this time, took the victory. They were scheduled for a rematch, but Dwan dropped out of the competition due to other commitments, which allowed Seiver to challenge Hellmuth. He paid the $400,000 buy-in for Round 4, which his opponent won.
However, that victory still wasn't enough to silence Hellmuth's critics, who say he's still not one of the best heads-up players. If Hellmuth wins this round, he can take the $1.6 million prize and walk away without a rematch. However, if Seiver wins, Hellmuth would have the option to challenge him to reclaim the title, which would then cost each player a $1.6 million buy-in.
In the High Stakes Duel format, the PokerGo show heads-up challenge is divided into rounds, with players needing to win three matches to cash out and walk away with the prize. Players that advance to the fourth round or higher can cash out if they win twice in a row. After each round, the loser can challenge the winner for a rematch within 30 days.
If the loser declines, then other players can make a challenge within 30 days. On the other hand, if no challenge is offered, the contest ends, and the winner takes home the prize.
Hellmuth Has Been Unbeatable In High Stakes Duel
Hellmuth is the most successful player on High Stakes Duel. He won $400,000 after beating Antonio Esfandiari in three straight matches in Season 1. He then proceeded to do the same when he faced Daniel Negreanu in Season 2. Unfortunately, Season 3 didn't go as well, as he had to come from behind to beat sportscaster Nick Wright in the first round.
In the first match against Seiver, Hellmuth took over five hours to defeat him, setting the stage for this upcoming match. If Seiver wins in Round 5 and Hellmuth requests a rematch, the two would come back to play for a prize of $3.2 million.
However, if Hellmuth is the loser and doesn't want a rematch, Seiver will take home the $1.6 million as long as no other high roller decides to put that much on the line to dethrone the champion. The match will air live on PokerGo at 8 PM Eastern on August 22.