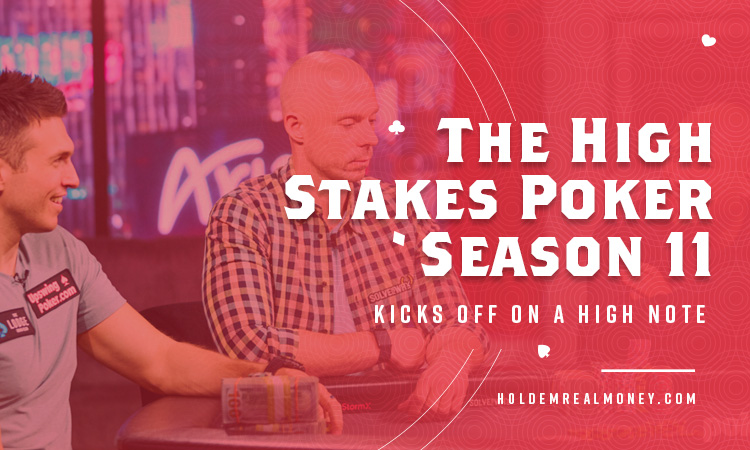 PokerGO broadcasted Episode 1 of High Stakes Poker (HSP) Season 11 on August 7. It showed poker die-hards that they would have a thrilling season of competitive events.
The game was larger than usual in the popular show. Each of the six final table qualifiers secured at least $500,000 and had an opportunity to get straddles worth at least $4,000. 
Andrew Robl and Jean-Robert Bellande were the table's HSP regulars.
What Were the Stacks' Sizes?
Rick Salomon – $837,000
Andrew Robl – $664,000
Jean-Robert Bellande – $597,000
Charles Yu – $564,000
Rob Yong – $506,000
Ferdinand Putra – $500,000
Robl increased his stack later to over $1.6 million. The session had many huge pots like top two pair that run into a Royal Flush.
Bellande and Salomon's Early Action

Bellande used 8♠ 6♠ to increase the $4,000 straddle to $11,000 when the show kicked off. Salomon got in the straddle, and his A♦ Q♦ failed to help him.
Pamela Anderson placed a $33,000 three-bet before receiving a call. Yet, the flop revealed 6♥ 5♣ 3♥ and Anderson checked ace-high. His move prompted Bellande to check with the top pair.
9♣ landed on the turn and earned Bellande a straight draw. Salomon checked before placing a $35,000 wager that ended the hand.
The action's pace increased after several minutes as Bellande used K♦ J♠ to make a $15,000 raise. Robl held A♠ 10♥ and Putra had A♣ 3♣ when they called.
Salomon used 10♣ 7♠ in the straddle to call. The flop went four-way, revealing A♥ 3♥ 9♣.
Robl used the top pair to wager $15,000, which Putra raised to $45,000 shortly using two pair. The former called, and the latter got a nut flush draw after landing 7♣ on the turn. Putra placed a $110,000 since the pot had more than $150,000.
Did the Royal Flush Pay Charles Yu?
Putra used K♠ Q♥ to make $11,000 from an early position raise in an exciting hand before Yu used A♣ J♣ to call from the small blind.
The flop turned 3♦ Q♣ K♣ in a Royal Flush draw and top two clash. But Yu opted to check over his rival before check-raising his $10,000 bet to $25,000. This hindered Putra from progressing and forced him to call and land 10♣ on the turn hence completing the Royal Flush for Yu.
Yu had a $25,000 lead out, almost 30 percent of the pot's size, instead of losing a slow-playing hand. The board had three clubs, yet Putra lacked one.
6♣ landed on the river and turned the fourth club from the community cards. But, Yu wagered $45,000 before the river card killed his hope of benefiting from the Royal Flush.
Putra used ace-high to place huge wagers on the non-face cardboard before Bellande beat him in a more than $300,000 pot. The latter didn't fold his pocket jacks.
Yet, Robl got an open-ended straight draw after making a $60,000 continuation wager. PokerGO will air Episode 2 of Season 11 on August 14 from 5 p.m.
Play Poker Now Online!
Here are our most trusted poker betting sites to play for real money.