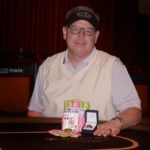 The first champion of the 2019/20 World Series of Poker Circuit Choctaw $1,700 Main Even is officially Hollis "Victory" Holcomb. He managed to outlast a filed that consisted of 976 entries in the stop called Choctaw Durant. Holcomb won a total of $255,535 as the first-placed player. The player actually managed to achieve the first victory in his career, and the best he had managed to finish was in third place in Tulsa's Circuit tournament that took place last year.
Needless to say, this was a dream of sorts for Hollis Holcomb who stated that he had been thinking about the WSOP Circuit ring forever. He added that he had finished third in the Tulsa series and that he had been set to in a ring. Holcomb concluded that it felt so good to bring a ring home finally.
Sharing the Riches
Holcomb secured his seat into this tournament by winning a home poker league that took place in Bartlesville, Oklahoma which is also Holcomb's home. The league consists of 15-20 people who all have to collect money and buy the winner a seat to a Circuit tournament. Whatever the winner takes in those tournaments, they have to share half of it with other poker league members.
In other words, Holcomb has just made his friends from Holcomb a lot richer, as he will share half of his winnings with them.
Holcomb added that his friends and he had been running the league for 15 years straight and that he was very glad that they would also get their share. Finally, he thanked his good friend Chris Ghylin who had taught him how to play poker but unfortunately passed away.
Final Table Results
The final table consisted of nine players, and the first one to hit the rail was Scott Hall who won a total of $25,672. He was soon followed by Shomari Willimas on the eighth place for $32,314 and Steven Williams on the seventh place for $41,082. The sixth place belongs to Matt Russell who won a total of $52,747.
Baxton Dunaway ended up on the fifth place and won $68,390, and Tony Nguyen followed him on the fourth place for $89,536. Jesse Solano hit the rail on the third place and won $118,349, leaving Vincent Moscati and Hollis Holcomb to compete in the heads-up part of the game.
At that point, it was pretty obvious who is going to become the winner of the tournament as Holcomb has been doing pretty well the entire final table. Therefore, the heads-up play did not take long and Holcomb quickly managed to beat Moscati's ace-king with pocket jacks. Moscati ended up on the second place for $157,929. Therefore, Holcomb finally won his long-awaited ring and made himself and his poker pals a lot happier. Come to think of it, why aren't there more such poker leagues?