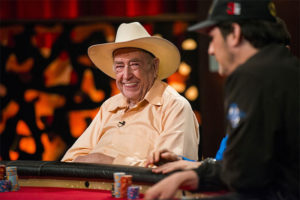 Doyle Brunson is a living poker legend, who bears the nickname The Godfather of Poker for a Reason. He managed to make this game popular worldwide as his poker skills remain unmatched. What follows is the story of how he won his last WSOP bracelet — the 10th one.
At the start of the World Series of Poker in 2005, Brunson had nine gold bracelets. Only one player managed to achieve that success at that point — Johnny Chan.
However, Chan decided to take the lead and won his tenth bracelet at the 2005 WSOP. On the other hand, Brunson did not have a lot of luck playing during that summer, as he didn't cash out a single time.
Moreover, he was thinking about stopping his tournament activities. He didn't have much success in the previous two WSOP tournaments either, but he didn't want to give up.
An event that changed it all was Event #31: $5,000 No-Limit Hold 'em 6-Handed. Brunson decided that it was time to show all his poker might once again.
The field consisted of 301 players, and Brunson did not take long to reach the final table where he was sitting second in chips at that moment. Other players that made it to the very end were Scotty Nguyen and Layne Flack, both very experienced poker players.
The Final Table and Brunson's Road to Victory
The final table of this event was televised, so everyone interested in watching the action can find this video on the web.
Brunson started great right away, and one important hand took place against Flack. Brunson managed to turn trip eights, which beat Flack's top two pair. This actually allowed Brunson to emerge at the top when it comes to the number of chips.
The Godfather of Poker continued his pursuit of the 10th bracelet, and another important hand was also against Flack when the two players went all-in on the pre-flop. Brunson had pocket kings, and Flack had an ace-queen, flopping a set.
However, this was not the end of Flack, as he was in the game for a little longer, finally busting out in the fourth place.
Nguyen also hit the rail after losing on a flip against a player called Minh Ly, so the only two remaining players in the game were Brunson and Ly, both determined to win a bracelet.
Brunson tried to end things quickly when he shoved with ten-three offsuit. Apparently, he thought that he had ten-deuce, so he made such a bold move.
Lee had king-queen and decided to call. But it seems that luck was working in Brunson's favor as the flop displayed a pair of threes, and that's all he needed to win the hand.
This was Brunson's last bracelet. He took part in WSOP events several more times, and even managed to cash out a couple more times. Nevertheless, his bracelet count stopped at 10 — something that Phil Hellmuth would later surpass.