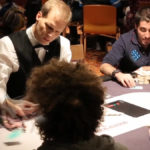 Although WSOP has been the main topic for the last couple of weeks, we are going to take a short break from it before we proceed to cover the big news — the Main Event. WSOP tournaments are not the only ones that are played at the moment, as poker players have an opportunity to test their skills in various online types of poker events. One of the tournament formats that draw the attention of many poker players is called "turbo".
How to Win at Turbo Tournaments? Be Ready to Think on Your Feet
Turbo tournaments usually have very short levels as blinds and antes rise rapidly. Furthermore, all the structures are organized so that they are quick, and players need to accommodate to thinking fast.
These turbo tournaments have become so popular that they are virtually available at any online poker site. Moreover, they are available on a daily basis, meaning that you could probably find a few happening as you read this text. Another variant of the "Turbo" is the so-called "Hyper-Turbo" which is even faster.
Players cannot usually always rely on their skills as there is not much time to think it all through. In fact, they have to include the luck factor more. However, there are a few things that you should pay attention to in order to improve your game. Let's take a look.
1. Stick to One Style in Early Levels
Try showing a tight image early in the game as that will give you more benefits later when the blinds and antes rise. Therefore, once you decide to go with bluffs and blind steals you will have already have folds that you had earned at the start.
2. Start Analyzing Your Opponents Right Away
Try to read them right after the tournament starts as you don't have much time to experiment at the beginning and focus on reading later.
3. Focus on the Game
Many online poker players have a tendency to browse the web or do something else besides playing poker. However, that is quite impossible when playing turbo tournaments as they require full focus the entire time. If you decide to snooze out, you are probably going to miss on a lot of action and lose.
4. Follow Level Changes
Players sometimes forget about levels in turbo tournaments. This could become quite annoying once you realize that levels are up and you are not doing that well.
5. Pay Attention to Stack Sizes
Stack sizes change as quickly as levels in turbo pokers, and players can go under 20 big blinds in a blink of an eye. Therefore, always make sure to check how you and everybody else is doing with their stacks.
These tips should hopefully increase your chances of winning in online turbo poker tournaments. There are also several other things that you should pay attention to, so make sure to read more about turbo and hype-turbo tournaments before you start playing them.