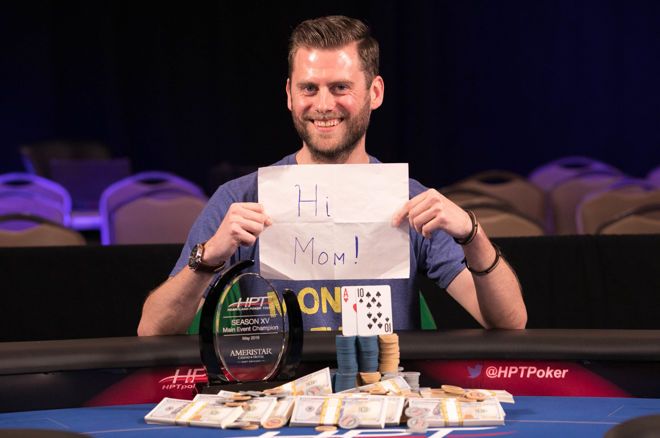 By topping a field that was 570-strong, Chris Moon managed to make the biggest cash in his poker career, having won a total of $183,899, along with a $3,500 Championship package. The Heartland Poker Tour Ameristar East Chicago $1,650 Main Event is actually the first live event win for this player from Michigan. He stated that he had been trying to win a live event for a very long time, as he had been playing poker since had been 18. Therefore, he added that the victory was a "dream come true" for him.
Moon's Road To First Place
Moon did pretty well from the start, but the final part of the tournament was when he really showed his wits and skills, having dominated the last 10 levels of play. He managed to gain a huge chip lead even before the final day begun, which means that entered the last day as the ultimate chip leader, with a stack that included more than 200 big blinds. Chris Moon actually had twice as many chips than the player after him, Craig Casino. In other words, he was immediately considered the winner of the tournament as soon as the last day began. However, Moon had a long road to go before he claims the first prize, and, to him, it didn't seem like he has a great advantage in comparison to other players.
Namely, Moon had a good reason to be scared as he already had one such huge opportunity to win the event but eventually failed to do so, having lost in the heads-up play and taking a consolation prize of $101,823 in his home state of Michigan. This happened back in 2015, but it was not the only time Moon's final prize would escape him. He managed to reach a final table once again in 2017 but dropped out on the eighth place. Moon made a short comment on his play and his past experiences, stating that he had been there before and came up short. However, he added, that he had just been trying to play his hands and his ranges, as well as he, could in the last event. It seems that his approach was fruitful as he managed to top the field and end up a winner.
Other players that made it to the final table, starting from the eighth place, include Bret Martin, Dennis Ng, Paul Elfelt, Mike O'Neill, Bryant Miller, Craig Casino, Eric Salazar, and Artem Zverkhovskyy, who was Moons' final opponent in the heads-up play. Moon held a complete control in the last part of the tournament, although Zverkhovskyy would gain momentum in the early heads-up play. However, it proved to be short-lived, and Moon immediately began attacking and soon ended the event. Both players from the heads-up play stated that they would use the money they had won to visit poker tournaments during the summer.