Hollywood Casino in St. Louis hosted a Heartland Poker Tour (HPT) tournament for the first time in history, with the Main Event drawing a total of 444 entries. The $1,650 Main Event included a total prize pool of $646,020, with the biggest chunk won by Bill Byrnes, who is a criminal defense attorney. The 47-year-old poker enthusiast managed to win a total of $148,587. He was pretty brief in his interview, stating that it was awesome. He later added that he had been feeling pretty comfortable throughout the tournament and that he had come third in chips at the start of the last day, which made him feel good about himself.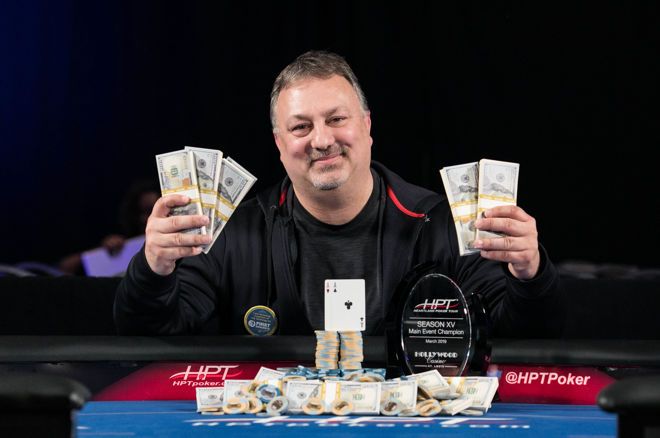 Furthermore, he commented on his opponents, stating that the second-place player had given him a lot of trouble and that he was a 'hell of a player,' whom he was worried about. Byrnes stated that other players were also really good, but that he had been comfortable with his game. When asked what he planned to do with his money, he said that he was going to take his wife to Europe first, but that he was not sure what to do with the rest.
Byrnes later decided that he was going to donate a part of his money to a charity organization called First Descents, which provides adventures for young people who live with cancer. That is a wonderful action which many in the poker industry would probably support. Bill Byrnes' primary occupation is that of an attorney, and he made it clear that he plays poker only for fun, but that he does his best to improve his game. However, he almost missed the final table as he had a court meeting on Monday morning which would have kept him preoccupied if it had been extended. Luckily for him, he returned to the final table and even managed to win the Heartland Poker Tour (HPT) Main Event in St. Louis.
The Final Table Results
Apart from Bill Brynes in first place, eight additional players were a part of the final table, including Keith Heine, who ended up in second place with a prize of $91,735. Other players that made it to the final table, starting from third place, are Stephen Green, Dave Simon, Kou Vang, Andy Echele, Tim Burden, Joe Landazzi, and Greg Wood. There are a couple of players who are worth mentioning but did not make it to the final table, and they are Ryan Tepen, Ryan Gregor, Mary Sturges, Allen Kessler, Shawn "Reginald" Roberts, and Josh Mullins. Apart from the Main Event, there were a couple of other events that took place as a part of the HPT. Craig Welko managed to win three side events in St. Louis, which is not a common occurrence.