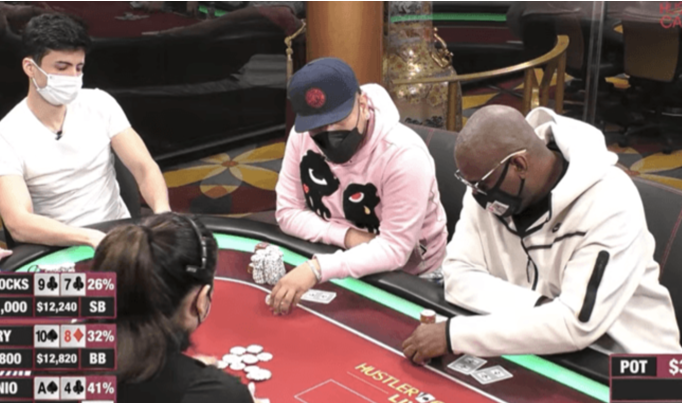 Hustler Casino Live has had no choice but to ban a player who was repeatedly looking at his opponent's hold cards during the live stream of the $10/$20/$40 No Limit Holdem game on Wednesday featured on the Hustler Casino Live Channel.
Not since the Mike Postle cheating scandal of 2019 has a player been accused of unethical behavior in a live-streamed poker event. In that incident, many people complained that Postle had access to his opponent's cards, most likely by someone messaging him about what the other players were holding.
Many pros and amateurs had no explanation of how his loose-aggressive style could result in an incredible win rate. A federal judge dismissed charges after Postle was sued for alleged cheating on Stone's live stream.
Poker Player Disgraces Himself
The player in this most recent incident, Julio "Skillrocks" Cedillo, was seen by viewers clearly looking at opponent Barry Wallace's hold cards on several occasions. Viewers started commenting about the incident in the event's live chat, and the Hustler casino immediately took action. It banned Skillrocks from playing in their live-streamed games.
Unfortunately, the real money poker game was over when casino authorities learned of the incident, as the live stream was on a long delay. Cell phones are also banned from both the tables and the commentary booth.
The casino released a statement saying, "We at Hustler Casino Live think that protecting the integrity of the game is absolutely paramount. We won't stand for things like what happened on last night's episode of HCL. The player known as "Skillrocks" will not be welcome back to HCL or Hustler Casino."
Evidence Caught on Film
The announcers for the event were confused in one instance in which Cedillo folded his top two pair after Wallace drew a straight. He also kicked the player to his right under the table to let him know Wallace had a big hand.
Cedillo then took the two folded cards away from the table area while he bragged to Wallace about folding his big hand. Viewers also noted that Cedillo successfully bluffed against Wallace when he had marginal hands after viewing his hold cards in several instances.
Cedillo ended up being the big winner of the event, taking home more than $17,000 from the $10,000 buy-in event. Wallace finished the event about $5,000 down, with Cedillo taking most of those losses.
Ryan Feldman of the Hustler Casino stated that so far, Wallace hasn't had any money returned to him by Cedillo, nor has he asked for any. "In my only conversation with Barry so far, he accepted that he should be more careful when looking at his cards. We haven't had a follow-up conversation yet, but we will," said Feldman.
Cedillo has appeared on Hustler Casino Live twice and has now been banned for life from the live-streamed events and the casino. Barry Wallace has appeared several times on the show and is a popular regular player on Hustler Casino Live, which is streamed from the Hustler Casino in Los Angeles.