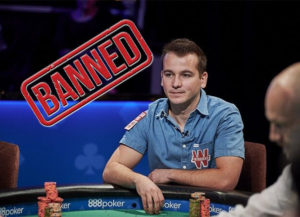 In online poker, there are some things you can do that are tolerated by operators, such as multi-tabling. But there are some things you absolutely cannot do at all, and multi-accounting is one of them.
Essentially, multi-accounting means using several accounts on a single poker site to create an edge. This is strictly forbidden, and operators don't hesitate to ban anyone who uses this strategy, even if that player has a successful history playing poker.
Such is the case of Ivan Deyra, a poker player from France who became known in the poker world after July 2019, when he took part in a WSOP event and managed to win a gold bracelet — the most important trophy in the world of poker.
However, it seems that his glory days are near the end, as he failed the honesty test by using his father's account to play online poker.
Deyra first took part in €2,000 Super High Roller, which he managed to top, winning a total of €83,300 (which is approximately $101,000 at the moment). The Winamax Series event, however, did not end well for the winner, as he was busted for using his father's account to play poker.
How Did the Incident Happen?
The first report of the incident took place on a French forum about poker called Club Poker. Deyra was basically the topic of a lengthy thread that contains more than 30 pages written in approximately two days. Participants of the tournament then started requesting refunds to their respective accounts, and "MAMARAZZI," who made it to fifth place, was reimbursed with more than €5,000.
Other players discovered that Deyra hadn't been using his account to play online poker since Jan. 6, which was two days after the big tournament wrapped up. The initial suspicion turned into a full-scale investigation, and when Internet researchers start doing this job, they discover a lot of things.
For example, they discovered that the account which won the event, dubbed "MATIVANAO," was actually made from the names of all Deyra's brothers and sisters.
Deyra Confirms
After the incident, Deyra confirmed that he had indeed been using two accounts and managed to win the tournament with one of them. He also said that he had been using his father's account and that both accounts were banned from the platform after he was exposed.
His winning money, along with two other cashes from the series, were distributed to the affected players after Deyra's scheme was exposed.
Deyra also had contracts with Winamax that were due to expire in June this year, but they were also prematurely terminated, and the French poker professional put a stain on his name forever. Apart from Deyra, other members of the Winamax Team Pros included Adrian Mateos, João Vieira, and Davidi Kitai.
According to the Hendon Mob, Deyra has almost $1.4 million in lifetime earnings. However, he will have to start all over and build his reputation from scratch.