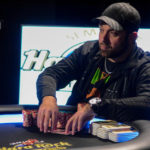 A festival which lasted for 13 days called 2019 Lucky Hearts Poker Open (LHPO) ended at the Seminole Hard Rock Hollywood two days ago. It contained a total of 25 events and the last one which wrapped up the whole thing was WPTDeepStacks Hollywood Main Event that required a $1,100 buy-in. The tournament was rather popular and there were a total of 1,634 entries in total, which made it the second largest WPTDeepStacks ever. In fact, the players managed to create a prize pool which surpassed the expected $1 million and created a total of $1,584,980 up for grabs. The whole thing lasted for six whole days and Jason Young won a total of $263,205 as his first place prize.
What does Young Say about His Victory?
Jason Young is a professional poker player who has been playing poker for quite a while now and managed to win a couple of events, one of them being a 2008 WSOP even when he won a WSOP bracelet. After his victory, Young stated that it had been a long journey to get back to playing poker. He added that there had been a lot of things that happened in his life in the last couple of years and that he hadn't been sure whether he would ever be able to return to playing big poker tournaments, let alone winning them. Furthermore, Young added that he was often talkative, but that he did not know what to say as he had been unable to process his thoughts about everything. In other words — Young was speechless.
Young added that he was actually never away. He had a daughter who he is raising all by himself and even managed to open up a restaurant. He stated that there simply hadn't been an opportunity to play big poker tournaments as he hadn't had enough time. However, he said that this victory was obviously something that said he should come back and put more effort into playing poker. Finally, Young said that it had been eight years since he played poker professionally, but that he definitely planned to play more similar tournaments in the future.
The Final Table Score
Jason Young played the heads-up play against Leif Force who had to hit the rail as second-placed and won a total of $183,540. Other players that made it to the final table are also Paul James Hizer, Kevin Chan, Dave Inselberg, Pedro Aldave, Quinn Bruno, Eddy Sabat, and Stephen Ibrahim. Furthermore, some of the players that made it to the payment list but were unable to make it to the final table are Nick Yunis, Sheddy Siddiqui, Joe Cheong, Warren Sheaves, Rex Clinkscales, Loni Harwood, Brian Altman, David Levi, David To, and Anthony Zinno.