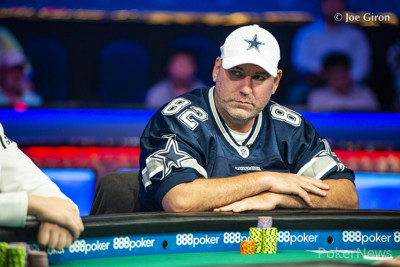 The 50th Annual World Series of Poker does not cease to amaze in regard to the number of players that take part in various events. Event #19: $1,500 NL Millionaire Maker was one of those events where yet another record was broken, as a total of 8,809 runners applied to it. During the five days of this event, we were able to witness great poker hands, but the field eventually reduced to one player. His name is John Gorsuch, and he is the new champion of NL Millionaire Maker, winning a gold bracelet and a hefty prize of $1,344,930. The 42-year-old player was a successful businessman for the last fifteen years, as he established a company which collaborated with the Department of Defence in Washington DC.
However, he seems to have grown tired of growing a business, so he decided to sell the company last year, move to Florida, and buy an RV. The entire process of selling the business and changing his life happened only a couple of weeks ago, so winning this event seems to be a crown to put on his decision. Gorsuch stated that he had started a company that had more than 100 people and approximately $15 million in revenue. However, he added that the biggest day of his life was definitely the day he won a gold bracelet. He added that he needed to call his financial advisor and CPA and inform them that he was, once again, a millionaire.
Gorsuch had a total of $450k from his poker earnings, but this was his first win in WSOP and his first victory cash since 2013. He stated that he had not won an outright tournament since 2013. Furthermore, he added that he had actually gained experience in a previous WSOP 2019 event where he came close to winning the title, but he lost after a three-hour-long heads-up play. This was a great boost for Gorsuch's poker-playing morale, as he now plans to play poker even more. Furthermore, he would use the money from the tournament to go on a cruise and celebrate his parents' 50th wedding anniversary.
The Final Table
A total of nine players entered the final table, and Josh Reichard was the first to hit the rail for $122,370. He was followed by Fabian Gumz from Germany, who won $157,565, and Bob Shao, who won $204,306. The sixth place was occupied by Cory Albertson for $266,771, and Josh Thibodaux ended up fifth for $350,758. A player from Lithuania Vincas Tamasauskas was fourth and won $464,375, while Lokesh Garg ended up in third place for $619,017, leaving Kazuki Ikeuchi to test his skills against John Gorsuch in the heads-up part of the game. Ikeuchi once again came close to winning a bracelet but failed to do it, winning a total of $830,783 as the second-place player.