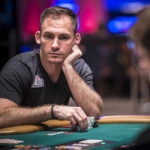 Justin Bonomo continues his impressive streak of winning high-roller events, creating poker history all along. The Triton London poker tournament was the primary focus of many poker lovers from around the globe as they were still summing up thoughts from 50th Annual WSOP. The entire tournament hosted various poker professionals and businessmen from all over the world who wanted to test their skills and luck against each other.
One of the events that gained a lot of attention was the Short Deck Main Event that required a £100,000 buy-in. There were a total of 108 entrants, and Justin Bonomo managed to top the list, winning a total of £2,670,000, which is approximately $3,240,880.
Bonomo was in the first place when it comes to the all-time money list, but he was knocked down to second place just a couple of days ago. Nevertheless, he did not allow himself to be second and allowed poker players to witness great poker. At the moment, Bryn Kenney is still #1 with $55,5 million in his pocket, while Bonomo has $48,5 million. In other words, he will still have to win a few more tournaments to get his first place back.
Bonomo's Play in the Event
He was second in chips on the start of the second day, but he had enough confidence to emerge in the first place by the end of the day. He limp-raised multiple pots in the first couple of rounds and commented that it was sometimes easy to get shoved on when a player starts raising. He added that the only effective prevention was limping.
Bonomo has been a popular name among the poker community, especially among No-Limit Hold 'em players. However, he decided to include Short Deck events into his portfolio as they are more challenging to master. At the moment, Bonomo has two Triton Short Deck trophies. He did not hesitate to share his thoughts, claiming that the game was "crazy," and that it requires having "crazy all-in," of which he admitted he wasn't a fan.
On Bryn Kenney's Overtaking the First Place
Many poker journalists were curious about Bonomo's thoughts about the all-time money list. Bonomo was a leader for a very long time, and it seems that he will have to work hard to overcome Kenney's success.
However, Bonomo had a completely different answer. He stated that it was completely natural, as he was looking to retire, while Kenney was looking to improve his game and play in even more tournaments.
In fact, Bonomo added that he thought he would never get the #1 place in the all-time money list once again. Nevertheless, he commented that he was totally fine with that fact since topping that list was no longer a goal of his.
Apart from Bonomo, other players who made it to the final table in the event are Wai Kin Yong, Liang Xu, Paul Phua, Isaac Haxton, Rui Cao, and Ming Zhong Liu.